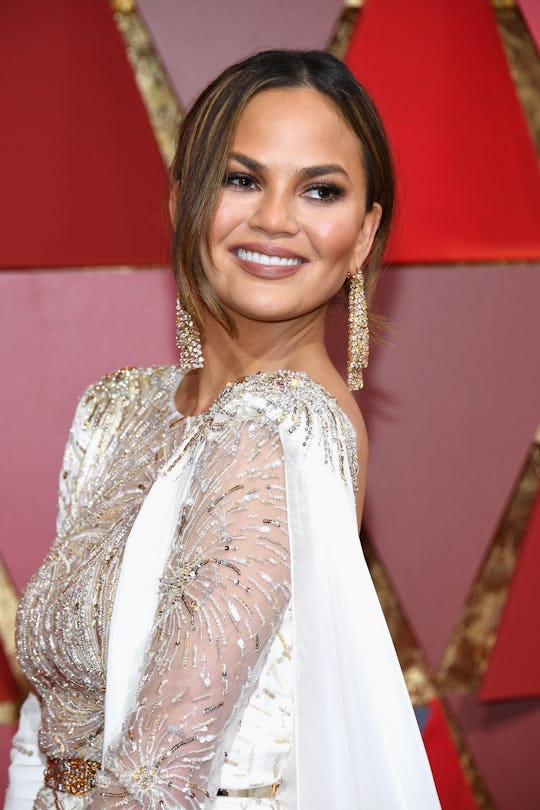 Kevork Djansezian/Getty Images Entertainment/Getty Images
Where To Get The Baby Wrap Chrissy Teigen Uses In That Adorable Photo With Miles
Any new mom knows that there's a lot you need to prepare for the arrival of a little one. There are so many accessories on the market to help make those first weeks and months of parenthood just a little easier, and some that help you do it while still looking and feeling amazing. Of course, some new mom style icons are truly leading the way for the rest of us. So in case you were wondering where to get Chrissy Teigen's baby carrier wrap showcased in her newest photo with baby Miles, look no further.
Teigen gave birth to her second child, a son named Miles Theodore Stephens on May 17, Us Weekly reported. On Tuesday, she posted a photo of herself holding her newborn and playing with her daughter, Luna, in the sand. "Guess we're really doing this kid thing!" she joked in the caption. Many people flocked to the comments to express their admiration for how honest she is about parenting, and of course, to inquire about where she found that amazing little body wrap Miles is tucked away in.
Teigen responded to fans' inquiries about where she got her wrap, saying that it was actually from the brand MOBY (she called it "super soft and comfy" and noted that it "doesn't get loose"). Moms who want to cop her style can grab their own MOBY Fit Hybrid Carrier for $54.94 online or the MOBY Wrap Classic & Evolution for $44.95 to $54.95, depending on on color and patterns. For moms who are looking for similar options, there's also the Boba Wrap Classic Baby Carrier ($40, Target), or even the Egrobaby Aura Wrap ($50, online).
Aside from commenting on her impeccable style, many fans also noted how refreshingly honest Teigen is as a parent. "I love that you show us the real you with no makeup and babes in tow, the Glam you with glitter from head to toe. The Mommy you nurturing & spending time with your children... makes me love and appreciate you all the more," one comment read.
Another fan wrote, "Honey, you are looking radiant and you're an amazing mom. You're such a positive role model, especially for those who feel like they aren't enough or are being judged as a mother. You show how motherhood really is and I commend you for doing that."
Honest she has been, and a lot has happened over the past few weeks. On May 17, Teigen tweeted: "Somebody's herrrrrrre!" announcing that Miles had, finally, been born. (She previously commented that she'd felt like she had been pregnant "for three years" because she conceived Miles via IVF, as People noted, and knew that she was expecting immediately.)
Though she didn't reveal his first photo for a few more days, she did tease fans by revealing on Twitter that he and Luna had the same nose. On May 20, fans got to see that for themselves, as Teigen posted her first photo of her son, and wrote: "Hello, world! This is Miles Theodore Stephens - We are drowning in his little peeps and nuzzles. Our household feels overwhelmed with love. Thank you for all your well wishes!"
Teigen has become known for her radical honesty and candor over the past couple of years, especially when it comes to parenthood. One moment in particular was right after Miles' birth when she tweeted: "I can confirm postpartum life is 90% better when you don't rip to your butthole. Baby boy: 1 point. Luna: 0." When a fan replied asking why she'd have stitches in the first place, Teigen answered: "lol bless you this is so cute."
In addition, Teigen also posted a photo of herself wearing those huge mesh panties that you get in the hospital after you have a baby, which hold a pad in place to deal with any extra bleeding.
There's no doubt that Teigen isn't afraid to be real with her fans, and whether she's sporting on point carriers or mesh panties, she looks amazing either way and it's clear motherhood has never suited her more.