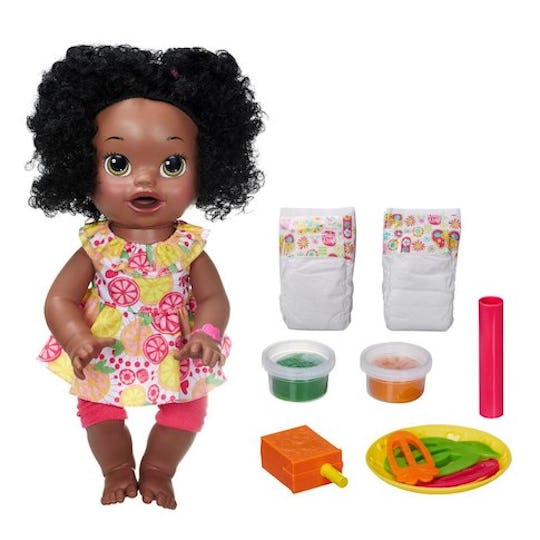 Hasbro
If This Baby Alive Is On Your Kid's List, You Better Start Shopping — They're Going Fast
This year, my 3-year-old has big dreams and hopes for her Christmas haul from Santa and says, "I want Santa to bring me all the toys." But if you get real specific with her, she'll tell you that she wants "that baby doll that you feed with the spoon." She's talking about the Baby Alive Super Snacks My Super Snackin' Baby Doll and she's not the only kid wanting one under the tree. If your kiddo wants the same gift, you'll need to know where to get the Baby Alive Super Snacks My Super Snackin' Baby Doll, because they're literally selling out everywhere.
Don't panic. The Baby Alive Super Snacks My Super Snackin' Baby Doll (not to be confused with the Baby Alive Super Snacks Snackin' dolls, which don't have over 30 phrases to say, or the Baby Alive Super Snacks Snackin' Noodles doll, or the Baby Alive Magical Scoops Baby) may not be at Cabbage Patch dolls circa 1983 levels, they are becoming increasingly hard to find. If you log onto the Toys "R" Us website and search for the doll, you'll see that the retailer has set limits. Depending on the doll you choose (there's an African American doll, a blonde, a brunette, and a boy version), you're limited to purchasing just one or two dolls per customer. There's even a note telling customers that there is limited stock available of the dolls.
But Toys "R" Us isn't the only retailer proving that these dolls are going fast. Walmart's website only shows the dolls out of stock (with a cheaper alternative, the Snackin' Noodles doll available) and if there is one to purchase, it's already tipping over $100 from a separate retailer on the Walmart website. On Amazon, different versions of the doll are priced at over $60 a pop (the African American doll, Sara, is $70) and are in limited supply. One version only has four left from the actual Baby Alive retailer on Amazon. While those prices don't sound astronomical, it's worth noting that on the Hasbro website, the approximate retail for the dolls is $50 and it seems as though they only have one version of the baby available right now.
So what's the big deal with these babies? Well, I'm not going to mince words — they're pretty exciting. Despite releasing in 2015, they've had a pretty solid following. If you check out any retailer, you can see that the doll usually has anywhere from 4.5 to 5 star-ratings, with the most negative reviews complaining about the doll's hair, the food becoming jammed in the doll's mouth (must be made into smaller pieces), and fluke mishaps like the doll not working after one day. (Some also complained about the price.) But the 5-star review comments include everything from the reviewer's kid loving it to it simply being a cool toy.
The Baby Alive Super Snacks My Super Snackin' Baby Doll is a doll that can say over 30 phrases (in English and in Spanish), eats "real" baby food that your child molds out of a play dough material, drinks from a pretend juice box, actually "chews" her food, and then — here's the kicker — poops in her diaper. I know. I'm already thinking of all the diapers I'll have to change for a baby doll when my daughter decides it's just too much for her.
In short? It's a really cool and amazing doll that's going fast. Released in 2015, its popularity seems to just be growing. Hasbro noted that the doll isn't being discontinued, so as it becomes more well known, parents may just be rushing to grab it.
If you're having a hard time finding the Baby Alive Super Snacks doll, don't fret. Hasbro has released a new doll for 2017 that is seriously amazing (and of course, it's also on my daughter's wish list). The Baby Alive Sweet Tears baby doll has an approximate retail price of $50, but it's worth every penny — the doll is extremely expressive.
The doll literally cries tears (actual tears, you guys), turns her face into a frown, and says she "doesn't feel good." The accessories with the doll include a stethoscope, medicine, and tissue so your little one can take care of the baby. In fact, the baby's nose even lights up red when she needs her nose blown, and your child can get her to feeling well in no time. I'm not going to lie, I'm really excited about this doll.
So even if you can't find the Baby Alive Super Snacks doll in your local retailer, know that the Baby Alive Sweet Tears doll is available in most major stores, including Hasbro Toy Shop. Regardless of which Baby Alive doll your child gets this holiday season, they're sure to be super excited. (You may be less so if your doll comes with pooping capabilities.)
Check out Romper's new video series, Romper's Doula Diaries:
Watch full episodes of Romper's Doula Diaries on Facebook Watch.