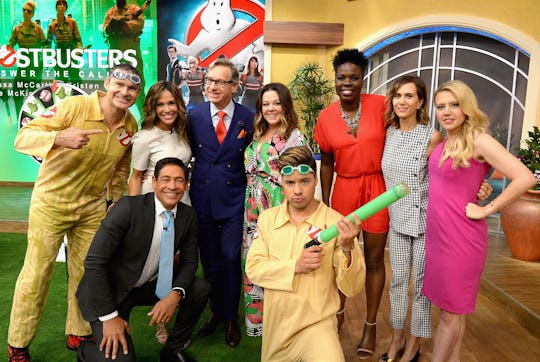 Gustavo Caballero/Getty Images Entertainment/Getty Images
Where To Get The New 'Ghostbusters' Soundtrack, Because I Ain't Afraid Of No Ghost
The Ghostbusters have been in the news a whole lot lately, but not because they've actually busted any ghosts in real life or anything. (I know, I'm disappointed too.) The Paul Feige-directed reboot of the original 1984 classic Ghostbusters is due in theaters this week and feelings are mixed. The same holds true for the new soundtrack. After all, how can anybody compete with the "Who you gonna call?" tagline from the iconic 1984 hit by Ray Parker Jr.? It's going to be tough to beat, but you'll have to find out where to get the new Ghostbusters soundtrack if you want to compare and contrast.
Luckily for Parker Jr. fans, the soundtrack for the new movie, which will be available on iTunes this Friday, features both new music and tunes from the original movie. So it's basically the best of both worlds for movie fans, right? Not only do you get to rock out to the classic Ghostbusters theme song (not to mention a favorite from my misguided youth, "Rhythm of the Night" by DeBarge), you can check out some new music as well. Fall Out Boy (featuring Missy Elliot) has done a pretty impressive remix of the old Ghostbusters tune for the new soundtrack, which had one reviewer saying, "Fallout Boy's version of Ghostbusters is brilliant. Perfect mix of old and new."
Still, word on the street is that Ray Parker Jr. was not exactly overjoyed with Fall Out Boy's reimagining of his song (not only did Parker Jr. perform the song, he also composed it).
"I wish they had called me to maybe work with some of the younger guys and help them get a direction," he said, according to Entertainment Weekly.
And speaking of direction... Zayn Malik, One Direction turncoat and fashionable heartthrob, has a new song, "wHo", on the soundtrack. Actually, this song is being touted as the official theme song, because Zayn is Zayn and that is life, I guess.
There are plenty of impressive artists on the new soundtrack too: Elle King, Wolf Alice, Walk The Moon, and even some soothing DMX with "Party Up (Up In Here)" for when you just want to chill.
It should be interesting to read what people have to say about the new soundtrack, particularly since the new movie has been so polarizing (fan boys to the left, fan girls to the right). There is clearly something about Ghostbusters that hits a certain nostalgic note some people don't want to mess with, and I think the same holds true for the soundtrack. They might not be "afraid of no ghost," but some of them are certainly "afraid of some change."
Whatever the case, there's plenty of great material to listen to and form an opinion on. Then, if for whatever reason it "don't look good," you know who to call.
(Ghostbusters.)