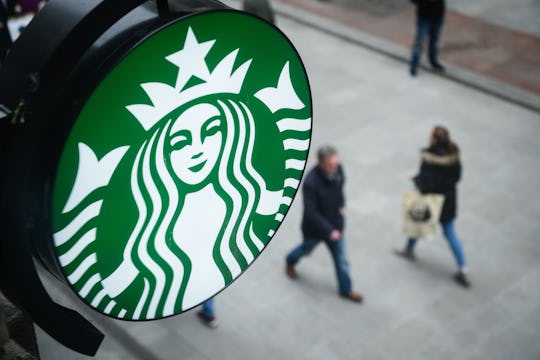 LEON NEAL/AFP/Getty Images
A Zombie Frapp May Be Coming To Starbucks To Raise You From The Dead Each Morning
Tired of your Pumpkin Spice Lattes yet? Don't worry, Starbucks has you covered, because reports have surfaced that the Green Siren has a brand new spooky drink concocted just in time for Halloween: The Zombie Frappuccino. Here's where to get the Zombie Frappuccino from Starbucks — if you dare. According to some wide-eyed caffeine connoisseurs on Twitter, the Zombie Frappuccino is coming. According to my local Starbucks barista Sam, she assured me that yes, "The Zombie Frappuccino is real. It's totally a thing."
Like so many other special limited edition Frappuccinos at Starbucks, the Zombie Frappuccino will likely only be available for a super-short period of time. One Twitter user says it will only be around for a couple of days at most. At the blog Day of the Human, bloggers and brothers Mark and Joe claim to have a "trusted source" at Starbucks who has not only confirmed that the Zombie Frappuccino is coming, but it will be an "extremely limited" release. Sadly, my awesome barista Sam had no inside info on just when the Zombie Frappuccino would be available. If I had to harbor a guess, I'm placing strong bets on the days leading up to and including Halloween.
Turns out, that guess about the Zombie Frappuccino timing will most likely be correct, as Day of the Human has quite the inside scoop on Starbucks' latest and most monstrous creation yet. The blog alleges that the Zombie Frappuccino will be available from Oct. 24 through Oct. 31. Just like the mythical Unicorn Frappuccino, the Zombie Frappuccino drinks are expected to sell out quickly, so you'll definitely want to head to your local Starbucks as soon as it opens on the 26th to get your own.
Now, what exactly is a Zombie Frappuccino? Leaked photos sent to Day of the Human show that, like previous limited edition Frappuccinos, it will be a blended crème drink, and definitely of the fruity variety. The photos appear to show that the drink starts as a Frappuccino crème blended with a new green caramel apple powder and a pink powder of "undisclosed flavor." The Zombie Frappucino will then be topped with pink "brains" whipped cream and a pink mocha drizzle to really give it that deliciously spooky zombie look.
One Starbucks barista on Twitter tweeted the Zombie Frappuccino will be just as colorful as the Unicorn Frappuccino. Not sure why he's scared — perhaps they're a challenge to make?
Meanwhile, Starbucks has been super hush hush about the Zombie Frappuccino. A representative for Starbucks did not immediately return Romper's request for more information or comment. However, a Starbucks rep did tell People that, "Our Halloween plans are still under [mummy] wraps, but we look forward to sharing more details with the living soon."
While mum's the word on the Zombie Frappuccino, Starbucks lovers in the United Kingdom, Norway, Sweden, and Singapore are getting a delightfully spooky Halloween drink of their own: The Vampire Frappuccino. Not only will this limited edition drink be limited to these regions, it actually comes in two flavors — Mr. and Mrs. Vampire.
Starbucks is definitely playing up the gory possibilities of the Vampire Frappuccino, with generous use of "blood red strawberry purée" as the drink's big finishing touch. According to the Starbucks Singapore website, the Mr. Vampire Frappuccino features a "chocolatey cereal" topping, reminiscent of that popular breakfast cereal vampire aristocrat, Count Chocula.
But back to the Zombie Frappuccino... I won't lie: I'm intrigued. Maybe it's because I live in the Halloween capitol of the world — Salem, Massachusetts — or maybe it's because I just miss the uber-fruity Prickly Pear Crème Frappuccino from this summer, but the Zombie Frappuccino sounds like the perfect drink for Halloween season.
Watch Romper's new video series, Romper's Doula Diaries:
Check out the entire Romper's Doula Diaries series and other videos on Facebook and the Bustle app across Apple TV, Roku, and Amazon Fire TV.