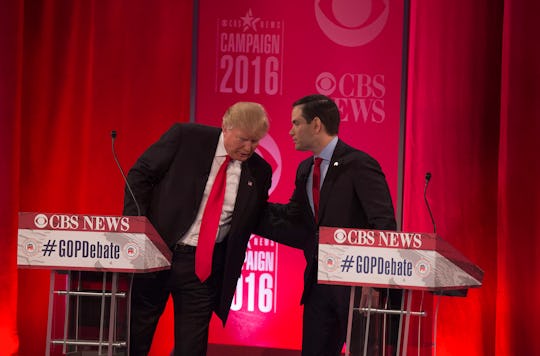 JIM WATSON/AFP/Getty Images
Where To Livestream The GOP Debate, Because You Know It's Going To Be A Good One
Texas. Barbecues, cowboy boots, lots of sky — and Republicans fighting tooth and nail to become the next president of the United States. Tonight at 8:30 ET in Houston, Texas, the remaining five candidates will be duking it out just days before Super Tuesday arrives in a highly anticipated CNN primary debate. Will Ted Cruz and Marco Rubio be able to fend off the seemingly unstoppable locomotive that is Donald Trump? Will John Kasich or Dr. Ben Carson gain any ground at all? And where can you live stream the GOP debate to get answers to these riveting questions?
While the debate, which takes place at the University of Houston's Moores School of Music Opera House, will be broadcast normally on CNN, CNN International and CNN en Español, and the news outlet will also be offering a free live stream of the GOP debate over on its main site. In addition, viewers at home will be able to watch the debate using their CNN mobile or tablet app, with no access code or subscription service required.
New York businessman and GOP hopeful Trump remains the man to beat, with three wins under his belt in New Hampshire, South Carolina and Nevada. I didn't think it was possible, but Trump is even more confident than usual heading in to Super Tuesday on March 1, and this time around it's with good reason. He has his closest opponents, Cruz and Rubio, scrambling to gain traction. With tonight's debate being the final before Super Tuesday, the stakes are higher than ever. And the remaining candidates need to do some quick thinking if they hope to stand out against Trump.
Hopefully the candidates will focus on the issues at hand, but that seems to be unlikely. Rubion and Cruz in particular seem to have gotten comfortable simply playing the defensive card. Rubio in particular recently attacked Trump by name at a Houston rally, saying that "the front-runner in this race, Donald Trump, has said he's not going to take sides on Israel versus the Palestinians because he wants to be an honest broker." Rubio said there was no such thing "because the Palestinian Authority, which has strong links to terror, they teach little kids, 5-year-olds, that it's a glorious thing to kill Jews."
Cruz has also allowed himself to be drawn in a name-calling battle with Trump. Speaking at a church in Nevada on Tuesday, Cruz said,
So yesterday, Mr. Trump told people in Vegas that Ted is — quote — "sick" because he keeps lying. Well, I'll tell you, it's very interesting. You can go and watch the video of Donald being asked about what do you think about transferring the land in Nevada, back to the people of Nevada. Donald, well, I don't support that.
The final two candidates, Kasich and retired neurosurgeon Carson, have become sideliners and have some anti-Trump Republicans recommending they drop out to avoid splitting votes.
With two candidates on the cusp of defeat, two others desperate to gain ground, and the final candidate Donald Trump, tonight's debate in absolutely Must-See TV.