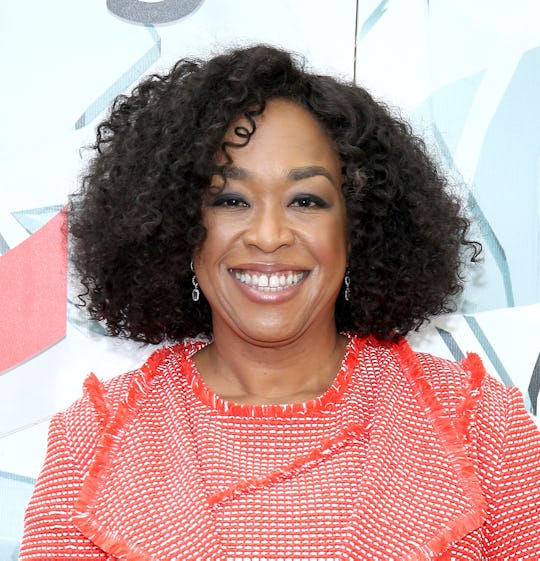 Paul Zimmerman/Getty Images Entertainment/Getty Images
Where To Re-Watch 'Hillary', Shonda Rhimes & Betsy Beers' Moving DNC Film
So you know those videos loving family members cobble together at weddings? The ones with the bride and groom growing up slowly to the strains of some sappy music? So yeah, this is not one of those videos. When Democratic Presidential candidate Hillary Clinton makes her way to the stage tonight, she will be introduced by a little film. And you're going to want to know where you can re-watch Hillary by Shonda Rhimes and Betsy Beers, because it's sure to be an iconic, historic movie.
The 12-minute film is narrated by none other than the silver-tongued Morgan Freeman. It will feature interviews with Clinton's husband, former President Bill Clinton, current President Barrack Obama, both a survivor and first responder from 9/11 and one of Clinton's childhood friends. Rhimes (creator of the hit shows Grey's Anatomy and Scandal) is a longtime supporter of Clinton. During the primaries, Rhimes produced a commercial starring Ellen Pompeo (Grey's Anatomy), Kerry Washingtom (Scandal), and Viola Davis (How To Get Away With Murder).
The commercial, called Real Life, was directed by Tony Goldwyn of Scandal and featured the actresses saying;
I make television filled with the kinds of characters I imagine we all can be. Strong but flawed, human but extraordinary. Our characters are on television but the real world… The real world has Hillary Clinton.
Rhimes and Beers, a movie and television producer, are longtime collaborators (they have worked together on Grey's Anatomy, Private Practice, and Scandal). They were excited to introduce viewers to a new version of Hillary Clinton.
"Producing this film was a major highlight of my career, and I am incredibly honored that the campaign entrusted us with the responsibility," said Beers. "It is beyond inspiring to see this amazing woman secure the Democratic nomination for President of the United States. There is no other voice I would rather have speak for all of us, and lead this country, than Hillary Clinton."
"It is an honor to provide America with an intimate portrait of Hillary," said Shonda Rhimes. "Everyone already knows the powerhouse. Now, with this piece, everyone will also get to know the person."
While we wait for the film to be released (just before Clinton's sure-to-be-historic acceptance speech), be sure to watch for it's release on an official site soon after her speech. Wednesday night's movie was released on notrealitytv.org, and of course, YouTube is always an option.
However you watch it... watch it. Shonda Rhimes and Morgan Freeman and Hillary Clinton? I mean, come on, right?