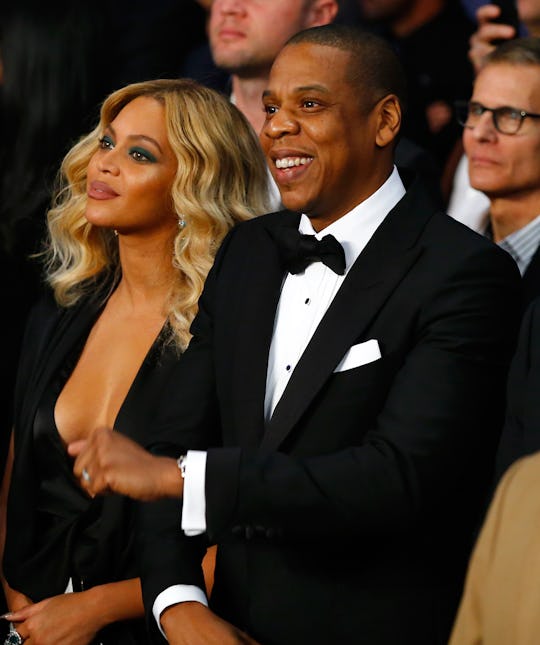 Al Bello/Getty Images Entertainment/Getty Images
Beyoncé's Pregnancy Photo Album Is A Flawless Gift
Here is how I announced my first pregnancy: My mother and I were at the mall, and somewhere between Sears and Cinnabon I blurted out, "I'm pregnant." Then we carried on and I ate two cinnamon buns to myself, the kind with pecans. It was a real moment. It's not my fault, see, because I didn't have Queen Bey to show me how it's done. When she dropped her glorious pregnancy news on the world on Wednesday (twins!), the Queen went all out with a full photo shoot. Missed it? Here's where you can see all the photos from Beyoncé's birth announcement.
In true Beyoncé fashion, the Queen chose the first day of Black History Month to casually drop the news that she was pregnant with twins. Within hours of posting a gorgeous picture of herself on Instagram protectively cupping her baby belly, looking serene and happy in a pale green veil and a backdrop of flowers, millions of her followers just stopped doing anything, anywhere. She stole the internet from President Trump, and honestly it was one of the happiest days we've all enjoyed for some time. Beyoncé captioned the photo:
We would like to share our love and happiness. We have been blessed two times over. We are incredibly grateful that our family will be growing by two, and we thank you for your well wishes. - The Carters
The Grammy-nominated superstar didn't stop there, though. After announcing that the Carter family (Beyoncé, husband Jay Z, and utterly edible 5-year-old daughter Blue Ivy) would be growing by two with her mic-dropping photo, she blessed us with more. Yes, more. An entire photo album on her website dedicated to the spirit and beauty of motherhood. The album, called "I Have Three Hearts" (gulp), is everything you didn't know you needed. And more.
The album features Queen Bey and her baby bump du jour au naturel, looking like a goddess. Which makes sense, since more than one of her artful poses (reportedly photographed by talented Ethiopian-born Awol Erizku) were representative of ancient women who symbolize the embodiment of feminine strength. Another symbol who clearly brings Queen Bey strength, her daughter Blue Ivy, is featured heavily in the album, kissing her mother's belly and posing like a pro.
Venus, the Roman goddess of love, Nefrititi, queen of Egypt, and Osun, the West African goddess are all mentioned in the words that accompany the pictures. As Somali-born poet Warsan Shire wrote for the photo series:
cells spark, limbs form, mother
swells and stretches to protect her
child, mother has one foot in this world
and one foot in the next,
mother, black venus.
Enjoy the photo album, the symbolism, and the homage to the strength of women that Queen Bey has shared with us all.
(Even you Illuminati theorists.)