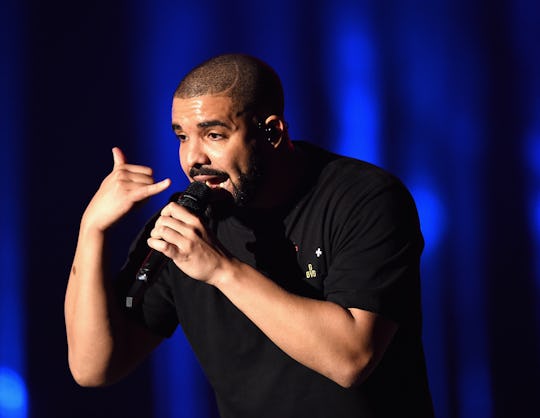 Kevin Winter/Getty Images Entertainment/Getty Images
Here's How To Stream Drake's Latest, 'More Life'
Drake fans shifted their weekend plans from perusing Netflix to blasting his new music on repeat when the rapper and pop star dropped his newest project Saturday. And knowing where to stream Drake's new album, More Life, truly is as simple as firing up that Netflix queue, because the 22-track tour de force is available everywhere from Tidal to Spotify to Google Play Music. That's right, no exclusives this time: More Life is on every music streaming service, and it's also available for purchase on iTunes. That's as old school as the project goes, though, as there's actually no physical copy of the album to be had.
In fact, the "Hotline Bling" artist is eschewing the term "album" entirely in reference to More Life, opting instead to call it a "playlist." Perhaps it is a more apt description of the epic 80-minute project, which features other greats like Kanye West, 2 Chainz, and Young Thug and first premiered on Apple Music's Beats 1 streaming radio station Saturday afternoon before before fanning out to every streaming service there is. And it's truly a gift to Drake diehards that he didn't debut More Life as an Apple Music exclusive, as he has with his new releases in the past.
That's because this project may mark a turning point in the entertainer's evolution. Writing for The Ringer, Justin Charity praised More Life as "the biggest, most ambitious, most global Drake album since 2011's Take Care, a grand tour of black music and culture in the U.S., Canada, the Caribbean, and the U.K." It also showcases Drake's range, proving that even as a preeminent rapper of our time he's also a pop icon; as Charity points out, Drake sings in more than half the playlist.
Only one of the songs on the playlist — the January sneak peak "Fake Love" — has been previously released, and much of the new music introduces a more carefree, buoyant Drake. "Passionfruit," for example, adopts an upbeat dancehall vibe. But there's still plenty of the sappy, lovesick Drake we know and love in "Free Smoke." In that opening track, he endearingly admits "I still drunk text J.Lo," a reference to his brief romance with Jennifer Lopez. Later in the album, "Teenage Fever" samples her 1999 hit "If You Had My Love."
As Drake fans revel in this, they still get to know there's more to come from him: "More time with family and friends. More Life," he wrote in part on an editor's note to the project on Apple Music, according to Complex. "I've still got vibrations to send. More Life."
If you haven't yet listened to More Life, the fact that it's on whatever music streaming service you prefer, plus iTunes, just made your Sunday afternoon a whole lot better.