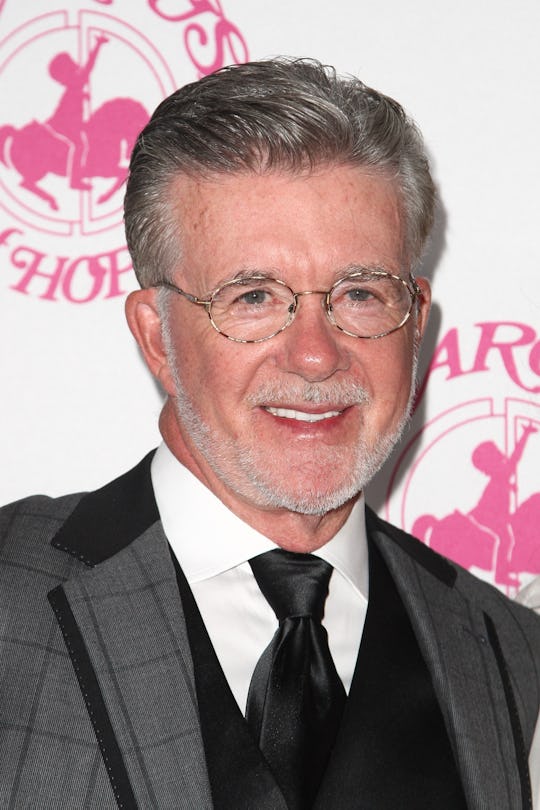 TOMMASO BODDI/AFP/Getty Images
Where To Watch Alan Thicke's Best 'How I Met Your Mother' Moments, Because Enough 2016
The unrelenting year that is 2016 will not only refuse to end, but won't let us hang onto our favorite artists. Alan Thicke has died at the age of 69, leaving How I Met Your Mother, Growing Pains, and Fuller House fans in a state of shock and mourning. In order to cope, many are wondering where to watch Alan Thicke's best How I Met Your Mother moments, because there is some solace in the fact that the actor will live on in the remnants of his best work.
According to TMZ, Thicke suffered a heart attack while playing hockey with his 19-year-old son. Sources told TMZ Thicke and his son, Carter, were on the ice around 11 a.m. when Thicke reportedly started to feel chest pains. He then became nauseous and vomited. A reported 30 minutes later an ambulance picked Thicke up from the ice, and rushed him to Providence St. Joseph's Medical Center where he was later pronounced dead. According to law enforcement sources, a company that recovers organs was contacted, so it's believed that Thicke's organs will be donated.
Thicke tweeted no more than a few hours before he suffered his fatal heart attack, so digesting the news of his passing is nothing if not difficult. His fans (myself included) are finding solace in the work he left behind, including the hilarious scenes he played in the fan-favorite How I Met Your Mother. The "gang" first met Thicke while watching main character Robin Scherbatsky's "Sandcastles In The Sand" music video.
From then on, Thicke became a somewhat recurring character, enlisted to help break up Robin and her ill-fated love interest Barney Stinson, as well as the lead in an embarrassing Canadian show Robin and her long-lost friend best friend co-starred in. Always hilarious, always endearing, and slightly creepy, Thicke was a character that provided additional comedic joy to a show that gave viewers a reason to believe in love, friendship, and fate.
How I Met Your Mother can be viewed on Netflix, so Thicke fans only have to look as far as their favorite, go-to streaming service to relive the joy, comedy, and uncomfortable vibes he provided viewers for nine incredible seasons. Of course, if turning to Netflix isn't an option, fans can rely on YouTube, where gems like Thicke's "Beaver Hand Puppets" performance can be viewed (on repeat, I might add).
Untimely deaths are difficult to comprehend, for a number of reasons. Death in and of itself is an unrelenting mystery, but when a beloved actor, father, husband, and comedic genius passes while playing hockey with his son, it's difficult to find an answer to the dreaded question, "Why?"
So, for Thicke fans (such as myself), we have his How I Met Your Mother performances to soften the blow of his loss. We don't have to answer the unanswerable questions. We just have to watch him when he was at his best.