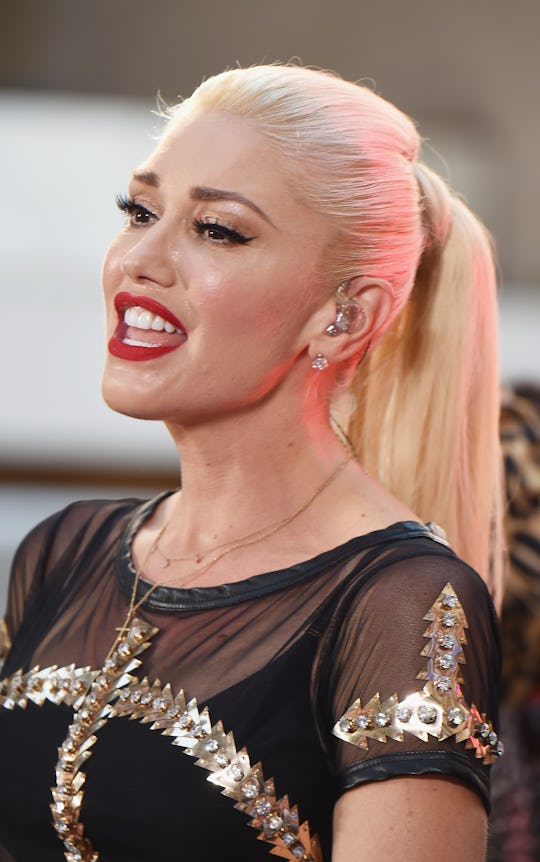 Michael Loccisano/Getty Images Entertainment/Getty Images
Where To Watch Gwen Stefani's New Animated Series, Because It's Going To Rock
Any of you who remember the classic Gwen Stefani hit song "Harajuku Girls," remember just how much Stefani loved Harajuku girls and Japanese street culture in general. Now, the No Doubt singer and judge on NBC's The Voice is about to take that love to the next level. Stefani is producing a new animated series, and it's all based on Japanese street culture — so if you're as big of a fan as she is, this probably comes as amazing news.
It all started back in 2004. Gwen Stefani came out with her debut solo album, L.A.M.B., and one of her featured acts were Harajuku girls she called Love, Angel, Music, and Baby. (Harajuku is a district in Tokyo dedicated to youth and fashion.) The Harajuku girls in Kuu Kuu Harajuku, the name of Stefani's new animated series, go by the same names.
Kuu Kuu Harajuku was launched in Australia in November 2015, and will make it's American debut on the Viacom-owned Nickolodeon on Oct. 3 at 8:30 a.m. Kuu Kuu Harajuku tells the story of the Harajuku girls starting a band called HJ5, with their leader, G. The girls will run into difficulties in every episode as they try to play a concert, but will be foiled by various bad guys, aliens, mean politicians, and hungry monster pets.
Stefani, who is the mother of three sons (Kingston, 10, Zuma, 8, and Apollo, 2), told People she wanted to create a show that celebrates creativity.
"I love that this is an animated series for young girls that celebrates creativity, imagination and individuality," she said. "I can't wait for everyone to see it!"
As the co-creator and one of the executive producers of Kuu Kuu Harajuku, Stefani was excited to see the vision inside her mind played out on the screen. In a news release, Stefani wrote:
Partnering with Nickelodeon on Kuu Kuu Harajuku is a dream come true! It's been incredible to see the Harajuku Girls and the world they live in come to life. The artwork is so beautiful and the whole series turned out better than I could have ever imagined.
The first season, which will play every weekday morning on Nickelodeon, has 26 episodes. While Stefani was hit with some pretty intense backlash back in 2004 for her enthusiasm about the Harajuku district, she continues to pay homage to what she loves. In 2014, she told Time:
There's always going to be two sides to everything. For me, everything that I did with the "Harajuku Girls" was just a pure compliment and being a fan. It's a beautiful thing in the world, how our cultures come together. I don't feel like I did anything but share that love.
Just like the characters on Kuu Kuu Harajuku, Stefani never gives up.
And she never, ever hollers back, so don't even ask.