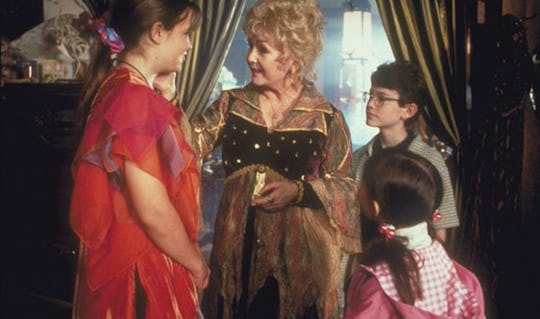 Disney Channel
The One Reason You Should Make A Point Of Watching 'Halloweentown' This Fall
Don't let the brilliant sunshine and temperatures sometimes still in the upper 80s fool you. The days of crunchy leaves on the ground and having an excuse to binge watch scary movies is almost upon us and that means there are tons of childhood favorites to look forward to. And since it's definitely a classic Disney Channel Original Movie, many are no doubt going to be wondering where to watch Halloweentown during the upcoming Halloween season.
Unfortunately, Freeform's highly popular 13 Nights of Halloween doesn't premiere until mid-October, so as of now there's still no lineup for which movies will be featured this year, but there are still plenty of other ways to watch Halloweentown in the meantime. If you don't mind quality that's definitely reminiscent of the original 1998 release date of the movie, you can find a full version of Halloweentown on YouTube to stream.
But since that could go away at any time, there's also the option to stream it on YouTube in higher quality for $5.99. For the same price, you can find Halloweentown on iTunes and in the Google Play store as well. And since it isn't currently available as an Amazon Prime movie, you'll have to resort to renting Halloweentown on Amazon Instant Video for $2.99, which is a small price to pay for a hefty dose of millennial nostalgia. Plus, it will mean even more to watch this year since it stars the late Debbie Reynolds, who died suddenly last December. So you may want to have a box of tissues on hand for your next viewing just in case.
Of course I would say that there's still the chance that Halloweentown will be on Freeform's 13 Nights of Halloween schedule, but considering that the list has already come out and this classic is nowhere to be found (along with some very other notable snubs, including Casper and Beetlejuice), I'd say you're out of luck when it comes to Freeform. Plus who has time to wait until the end of October to watch what is arguably one of the more classic Disney Channel Original movies ever? Let's not forget that Halloweentown also spawned several sequels, including Halloweentown II: Kalabar's Revenge, Halloweentown High, and Return to Halloweentown, which was released in 2006.
Basically, fans grew up with the movies and it might even be in the ranks of Hocus Pocus as one of those fall or Halloween movies you just don't pass up, even if it's a little more corny than you remember as a kid. Like I said, it's that very real millennial nostalgia.
Until either the Disney Channel or Freeform gets it together decides to add Halloweentown to the lineup this year — which could very well happen as the actual holiday gets closer, you never know — you definitely have at least a couple of options available to you. Either way, it's not impossible to watch what is likely a favorite Halloween movie for so many and in the days leading up to Halloween, Halloweentown is kind of a necessity. You just may have to shell out a few bucks in order to make it happen.
Watch Romper's new video series, Romper's Doula Diaries:
Check out the entire Romper's Doula Diaries series and other videos on Facebook and the Bustle app across Apple TV, Roku, and Amazon Fire TV.