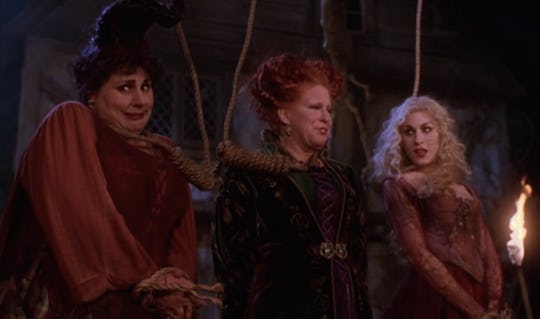 Disney
Here's How To Watch 'Hocus Pocus,' So You Can Get In The Halloween Spirit
It's that time of year again: the leaves are turning, the pumpkin spices are brewing, and Halloween memes are beginning to saturate social media. Autumn hasn't officially hit yet, but it's never too early to start getting ready for Halloween. Watching on-theme favorite movies is always a good way to get in the spirit for the spookiest of holidays, and there's no childhood classic better than Hocus Pocus. If you need to feel those Halloween vibes, you might be wondering where to watch Hocus Pocus. Though, quite honestly, I wouldn't judge you for watching it all year round.
Unfortunately, the Halloween season is just far enough away that Hocus Pocus is a little more difficult to get ahold of at the moment. You might be getting bombarded with candy and decorations at the drug store already, but streaming services haven't quite caught up with the need for magical kids movies to watch over and over again. Hocus Pocus isn't available to stream on Netflix, Hulu, or Amazon Prime right now, though for a fee it can be purchased on Amazon, Youtube, or iTunes. It generally costs less to rent than to buy, but if you decide to take the plunge at least you're guaranteed your witchy fix.
However, you might not be interested in spending the cash to rent or own Hocus Pocus. There's no need to despair in that case, though it will require a little bit of patience on your part. Hocus Pocus is almost always an important feature in Freeform's 13 Nights of Halloween, which means that in the days leading up to the holiday, your TV will be awash with showings of Bette Midler, Sarah Jessica Parker, and Kathy Najimy getting up to all kinds of potion-brewing shenanigans with the help of a certain eye-catching book.
The trouble is, those thirteen nights are still a long way off. The movie marathon kicks into gear in the two weeks before Halloween, which are still a little more than a month away. The most impatient Hocus Pocus fans might want to peruse other venues to give in a viewing before then, but anticipation builds excitement, right? Before you know it, Freeform will be launching into its annual celebration of all things spooky and you'll have all the Hocus Pocus your heart desires.
And if you're interested in catching Hocus Pocus on the big screen again (and you live near Torrington, Connecticut) then you might be in luck. The Warner Theater is having a showing of the film on Oct. 13 and it only costs five dollars. If you're in the area, it's a deal that can't be missed.
But if not, don't fret. Just think of the wait as more time to get ready. In the meantime, you can get your outfit ready (pointy hats a must), start brewing something delicious (but avoid entrapping small children), and brush up on your spellwork.
Check out Romper's new video series, Romper's Doula Diaries: