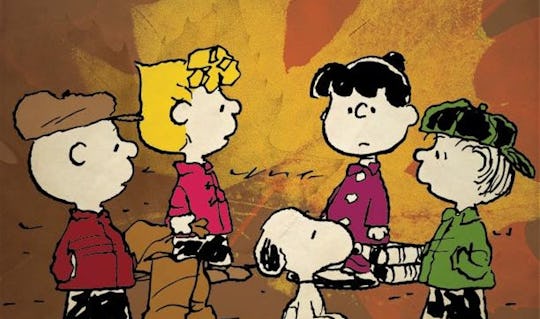 Bill Melendez Productions
Here's How To Watch 'It's The Great Pumpkin, Charlie Brown'
Even though it's not officially autumn yet, the pumpkin spice latte is back and people have already taken their cozy sweaters out of storage. With the new season, comes some of our favorite shows and specials, including It's the Great Pumpkin, Charlie Brown. The classic is one of the many holiday specials involving the Peanuts gang, and it's quite possibly the best one. If you're looking for a little nostalgia this fall, here's where to watch It's the Great Pumpkin, Charlie Brown.
Although you won't find this special on any streaming platforms, you can still find it online. Since the video is only a half hour, it's been uploaded to YouTube, Vimeo and Daily Motion, a multitude of times. Thus, you can pretty much find it anywhere. You can also purchase the classic on Amazon video for $12.99 or on iTunes for $9.99. However, it's actually much cheaper to just buy the DVD, which goes for as little as 73 cents if you buy it used and $1.66 if you get the used Deluxe Edition.
So depending on how dedicated you are to watching the Peanuts gang and the Great Pumpkin, you can definitely find some way to watch it again and again. Additionally, because Halloween is quickly approaching, you can bet It's the Great Pumpkin, Charlie Brown will also be airing on TV at some point in the next month or two.
If you're unfamiliar with the popular story, the Great Pumpkin is very similar to Santa Claus. Though none of his friends believe him (except Charlie's little sister, Lucy), Linus believes in the Great Pumpkin, a creature who appears on Halloween night. At the start of the short film, Linus writes a letter to the Great Pumpkin and puts it in the mail, in the hopes that the Great Pumpkin will show up at the pumpkin patch on Halloween night.
Then, while his friends all partake in the holiday festivities, Linus makes himself comfortable in the pumpkin patch, awaiting the arrival of the Great Pumpkin. On their way to go trick-or-treating, the rest of the Peanuts gang stop by to check on Linus, who refuses to leave the patch, and convinces Sally to stay with him. Sally, like Lucy, is also infatuated with Linus.
So does the Great Pumpkin actually make an appearance and prove all of Linus' friends wrong? Well, you'll just have to watch It's the Great Pumpkin, Charlie Brown to find out.
Check out Romper's new video series, Romper's Doula Diaries: