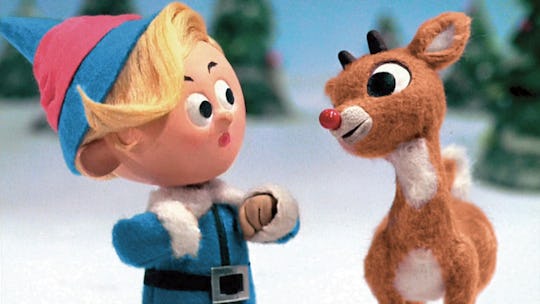 Rankin/Bass Productions
Where To Watch 'Rudolph The Red-Nosed Reindeer' & Pass Down The Tradition
We might be living in the golden age of television when new holiday movies are churned out year after year, but some of the classics, like Rudolph The Red-Nosed Reindeer, still hold up. It might be one of the most important holiday movies, if only because of its heavy nostalgia factor. And since it's about that time, you're probably going to be wondering where to watch Rudolph The Red-Nosed Reindeer and being that it's been around forever, there's no shortage of ways. It might not be the most modern take on the story, but it's one of those classic holiday movies you almost have to watch or it's blasphemous.
At any given time throughout the holiday season, you can find Christmas movies on TV, whether it's network television or on a cable channel holiday movie marathon. CBS will actually air Rudolph The Red-Nosed Reindeer on Nov. 27 at 8 p.m. ET, but I have a feeling that won't be the last time it airs in the next month or so. If streaming is more you thing, however, the movie is on YouTube in its entirety. But it's not all that surprising that the original TV special has made its way to YouTube since it's been 54 years since it first aired on TV.
Rudolph The Red-Nosed Reindeer is also available for streaming on FandangoNow for $9.99 if you have a membership. If not, you can pay the same to stream it on Vudu. So while it's not available on Hulu or Netflix at this time, there are still a handful of ways to watch.
Arthur Rankin Jr., who created the original Rudolph holiday special, said in a 2010 interview with the Television Academy Foundation that the message behind it is a little deeper than just a fun Christmas movie with song and dance. When asked about the Island of Misfit Toys in the movie, he said, "I think all kids are looking for guidance, I think all kids feel slightly inferior… kids have problems, whatever they may be. And to see other characters also have problems, they can associate with them. And when the characters are relieved of their problems by their own actions, like Rudolph… kids love to see someone of their own strife, of their own age, of their own inferiority, achieve things."
It really takes the movie a step further than other Christmas or holiday specials, however entertaining they may be. Not only is Rudolph a long running classic Christmas TV special, but it also has an important connection for younger kids.
That's not to say other holiday TV specials for kids don't also have deeper meaning and importance. But there aren't many these days that still rely heavily on genuine messages without sounding too preachy. And Rudolph isn't just a cartoon or computer animation. It was made with stop-motion animation decades ago and it somehow has staying power today. That really says something about how well-loved it still is by pretty much everyone. And since it's available for streaming in a few different ways, it's probably not going anywhere anytime soon.