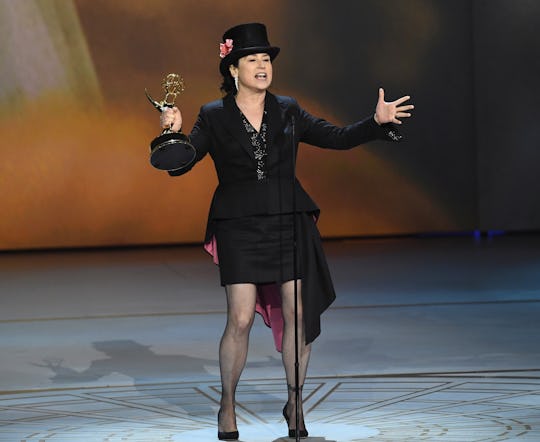 Kevin Winter/Getty Images Entertainment/Getty Images
It's Time For You To Catch Up On 'Mrs. Maisel' ASAP
I don't know about you but I'm sort of loving the 70th Emmy Awards so far for a few important reasons. First of all, I quite like the addition of all the SNL skits. Second and more to the point, I'm getting a little glimpse at new shows I need to start watching. One of them is early winner The Marvelous Mrs. Maisel. Obviously we all need to figure out how to watch The Marvelous Mrs. Maisel and not just because of its Emmy wins. But maybe a little bit because of them.
For those of you who, like myself, haven't yet had the chance to watch The Marvelous Mrs. Maisel, here's a little background to whet your whistle. According to Amazon Prime, the network that carries the show, "In 1958 New York, Midge Maisel's life is on track — husband, kids, and elegant Yom Kippur dinners in their Upper West Side apartment. But when her life takes a surprise turn, she has to quickly decide what else she's good at — and going from housewife to stand-up comic is a wild choice to everyone but her."
To recap: period piece in the '50s, a mom-turned-comic in New York, plus Amy Sherman-Palladino from Gilmore Girls. How in the heck have I missed this show?
Perhaps my issue has been the fact that I don't have Amazon Prime, the only place where a girl (or boy for that matter) can watch The Marvelous Mrs. Maisel. But apparently signing up for Amazon Prime is easier than you think and no this is not a commercial I promise.
You can sign up for a 30-day free trial and watch both seasons of The Marvelous Mrs. Maisel and then I guess just give it up right after. Maybe don't do that because it's only, like $10 a month or something. But if you just wanted to sign up for this show you could do it for free. Just saying.
The cast of The Marvelous Mrs. Maisel is enough to make me want to catch the show, even without the added bonus of everything I love on a show (period piece, spicy gal living her best life, and Amy Sherman-Palladino forever). Despite the fact that I haven't even seen the show, I found myself cheering for each Emmy win. When Alex Borstein won for Best Supporting Actress in Comedy, she was so charming I just loved her. Ditto when Rachel Brosnahan won Best Actress in a Comedy. And of course, as a long time fan of Gilmore Girls, I couldn't have been happier for Sherman-Palladino's historic double win as a Best Comedy Writer and Best Comedy Director.
So there you have it, folks. The Emmys have given us all a chance to either revisit or discover The Marvelous Mrs. Maisel. All we have to do is sign up for Amazon Prime... because we don't want to be the kind of people who illegally download the shows we want to watch in secret, do we?
That would be gross, guys, come on.