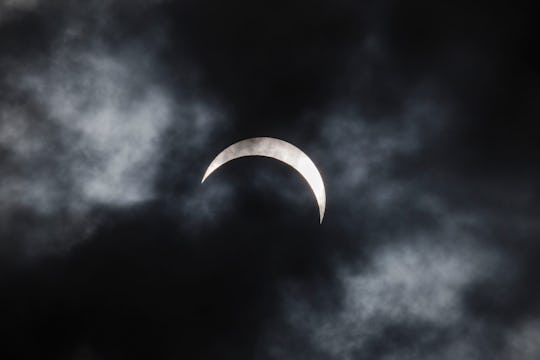 Ulet Ifansasti/Getty Images News/Getty Images
Where To Watch The Solar Eclipse In Atlanta
Have any plans on Monday, Aug. 21? No? Good, because a solar eclipse is set to take over the skies from coast to coast, and catching a glimpse of it should probably be at the top of your to-do list for the day. It's set to be one of the coolest events in the sky this year, and it's a great learning experience for kids. If you're based in Atlanta and want to watch the partial solar eclipse, you're in luck: there are quite a few good places to watch the historic event. Here's where to watch the solar eclipse in Atlanta, Georgia, if you want a prime seat.
In metro Atlanta, there's a number of good places to check out the view. One solid option is the Fernbank Science Center, which is hosting a kid-friendly event with free admission for all. Both staff and volunteer astronomers will be on-site to explain what's happening, and telescopes will be available. According to WABE, there will also be several programs run throughout the day. Show up at noon and stay until 4 p.m. for the full experience.
You can also consider heading to either the Georgia Institute of Technology (at their Kessler Campanile) or Georgia State University (at 25 Park Plaza). According to WABE, both metropolitan campuses will offer up a near-total eclipse (with 97 percent coverage of the sun), and the universities will be offering viewers free eclipse glasses while supplies last (your best bet is to bring your own, however — safety first, right?). Head to either campus near 1 p.m. to catch the full show, and expect prime darkness to take place near 2:36 p.m.
If you're willing to leave metro Atlanta, there are also a number of state parks that are hosting viewing events and that should offer up a gorgeous view. According to the Atlanta Journal-Constitution, a total of 11 state parks in Georgia will be hosting events, so you could even make a day out of it: head to a state park early, hike in the morning, and then watch the eclipse from the park before heading home.
If you're watching the show without kids or simply trying to catch a glimpse of it over your lunch break, you could always head to a rooftop bar in Atlanta to view the solar eclipse, too.
Regardless of where you're watching the eclipse from, it's bound to be a pretty jaw-dropping event. Make sure you have a pair of solar eclipse glasses handy and a plan for watching — then after that, sit back and enjoy the solar show.