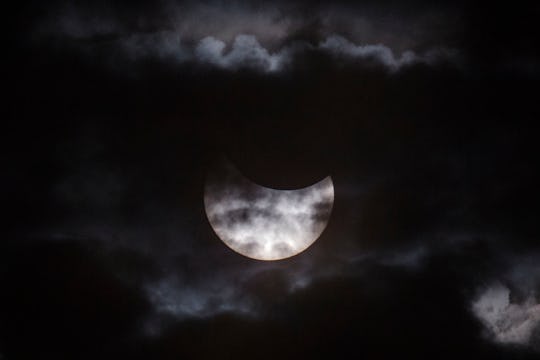 Ulet Ifansasti/Getty Images News/Getty Images
How To Get The Best View Of The Solar Eclipse In Charleston
Look, there's not really a whole lot of good news out there these days. Yes, Taylor Swift won her sexual assault case, and you know, puppies are still cute, but the current political climate can make it hard to actually enjoy these tidbits of positivity. However, when a certain natural phenomenon takes place, it's important to try and enjoy it. So, where and how can you watch the solar eclipse if you're in Charleston, South Carolina? You're in luck, because it's one of the best locations to see the event next week.
According to ABC News:
The 70-mile-wide path of totality will sweep across portions of 14 U.S. states: Oregon, Idaho, Wyoming, Montana, Nebraska, Iowa, Kansas, Missouri, Illinois, Kentucky, Tennessee, Georgia, North Carolina and South Carolina. NASA estimates more than 300 million people in the country could directly view the total solar eclipse on Aug. 21.
So if you're in the Charleston area, or will be on Aug. 21, then you'll be in its path. However, there's still a lot of information to know about the eclipse before settling in for the view. For instance, where are the best places to see the total solar eclipse? As The State reported:
The full eclipse itself starts shortly after 2:30 p.m. Monday and lasts anywhere from 90 seconds to 2 minutes and 30 seconds in South Carolina for areas in the "path of totality." That includes such cities as Greenville, Columbia and Charleston.
In Charleston, however, viewers can see the total solar eclipse for just over a minute, starting at 2:46 p.m. Then, at a little after 2:47 p.m., the total eclipse will end, and viewers in Charleston will only be able to see the partial eclipse. However, it's still pretty awesome that Charleston will be in the total eclipse viewpoint. So, here's how to make the most out of that one minute and 38 second window:
Option one: Get some eclipse glasses, not only for safety reasons, but for a better view as well. As Scientific American reported:
[Eclipse glasses] 100,000 times darker than your regular sunglasses. Because there will be at least a few substandard versions out there, look for ones marked as meeting the ISO 12312-2 international standard, which is sometimes also written as ISO 12312-2:2015. Those block a lot of visible light, along with harmful UV and infrared.
Another option is to use a telescope. Obviously, this isn't always feasible, but if you have access to a high-quality telescope, bust it out and take advantage of it.
Finally, make sure you plan ahead. Because of its timing, you might have to duck out of work for a bit to see the eclipse in totality. So, make sure you've made arrangements to be outside before totality starts. You definitely won't regret it.
Basically, if you're in Charleston, you'll have a view of the eclipse on Aug. 21. So, wherever you find yourself on Monday, make sure you look up on (with eclipse glasses on, of course) and you might just forget the mess the world is in at the moment.