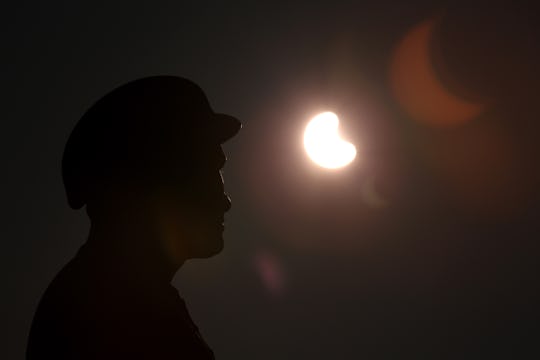 Christopher Furlong/Getty Images News/Getty Images
Where To Watch The Solar Eclipse In Houston
On Aug. 21, people across the United States will be able to observe a rare solar eclipse. This once in a lifetime event last occurred in 1979, so be sure to make plans to catch it for at least a few minutes (which is about how long it will last). Most of all, people are clamoring to find out where they can watch the solar eclipse — and that includes Texans. For those of you wondering, here's where to watch the solar eclipse in Houston.
Considering Houston is home to about 2.3 million people, it makes sense that the city is hosting a ton of events in honor of the solar eclipse. On Aug. 21, various locations around Houston will host solar eclipse viewing parties for kids and their parents. Most of the viewing parties will be educational, and some of the city's museums have invited scientists to their events. If you're a proud science nerd (keep on being amazing), then you'll definitely want to be in Houston when this celestial event goes down.
If you're more interested in the spectacle of the solar eclipse, it's important to note that Houston will only get to witness a partial solar eclipse around 1:16 p.m. CST. A partial solar eclipse is when the moon covers a portion of the sun, instead of blocking it out entirely. Unfortunately, Houston is not one of the 14 states that will see the the solar eclipse in its totality.
Children's Museum Of Houston
It's safe to say the Children's Museum of Houston will be lit on Aug. 21.
Starting at 11:00 a.m. Central Time, kids will be able to take in various activities at the museum, including a "Pinhole Viewer Workshop," according to the Children's Museum of Houston. For $5.00, kids will create pinhole viewers and they'll learn how to safely view the eclipse. Following the workshop, children can attend fun lectures on the solar system.
Brazosport Center For The Arts & Sciences
If you're a fan of options, The Brazosport Center for the Arts and Sciences is for you. On Aug. 21, the center will host a solar eclipse viewing party in the center's planetarium. For spectators who don't mind a little heat, they can watch the phenomenon from outside.
Judi James, the director of the BASF Planetarium said, according to The Brazosport Center for the Arts and Sciences' website:
We want to create access to this celestial happening for local sky watchers. For those watching the eclipse outside with our special viewing glasses or from the air-conditioned comfort of the planetarium, this is something we think people here will enjoy and appreciate.
University Of Houston
For those of you with older kids, this might be your best bet.
During the eclipse, the University of Houston will open its revered observatory to curious spectators. According to the University of Houston's website, viewers can "take a tour of the newly renovated observatory and see the eclipse through the big telescope." Sounds super fancy and cool.
Even better yet, there will be "additional telescopes with solar filters, pinhole projection assemblies for viewing the sun and a safety goggle station with protective eyewear available for use" outside of the observatory, according to the University of Houston.
Houston Museum Of Natural Science
Props to the Houston Museum of Natural Science for organizing a jam-packed solar eclipse viewing party.
According to Houston Museum of Natural Science's website, its planetarium will offer "six special, 15-minute programs explaining the aspects of the eclipse and what it looks like from Houston, the line of totality and even from the Moon." The $4.00-per-person event will also include "images of totality as they are posted from sites along the center line, including the Museum group of 230 travelers in Casper, Wyoming," according to the Houston Museum of Natural Science.
If you can't attend a museum viewing party, Visit Houston Texas recommends Buffalo Bayou Park or Hermann Park, because they don't have trees and are not in close proximity to buildings.
As some people have already pointed out, the solar eclipse Aug. 21 won't occur at an ideal time during the day. If you're fortunate enough to be able to take off of work or school, take advantage of all the solar eclipse events Houston has to offer. This is a specular event, and you don't want to miss it.