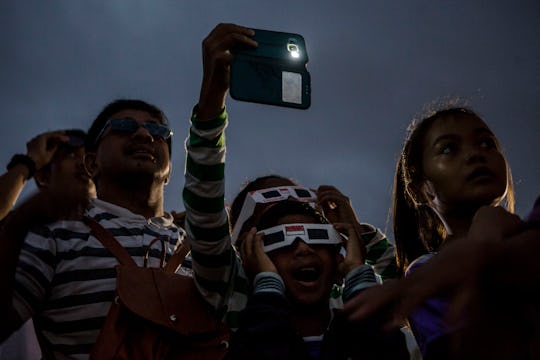 Ulet Ifansasti/Getty Images News/Getty Images
Where To Get The Best View Of The Solar Eclipse In Kansas City
The good people at NASA, regular ole space nerds, and Americans of all stripes are looking forward to experiencing what to many could be a once-in-a-lifetime event. And in the coming days, many will be gearing up for the hotly anticipated solar eclipse on Aug. 21. The rare, brief phenomenon during which the moon will partially or completely obscure the sun, depending on where you are, is the first of its kind in the United States in almost 100 years. It will be a sight to behold wherever you are, but those who are in or near the 70-mile wide "path of totality" will possibly have the best stories to tell their grandchildren one day. To that end, here's where to watch the solar eclipse in Kansas City — both the one in Kansas and the one in Missouri.
According to CNN, the "path of totality" stretches across 14 states from the Oregon coast to the South Carolina coast, and about 200 million Americans live within a day's drive. The last time a solar eclipse crossed the entire country was June 8, 1918 — so lots of families are planning on making the trek. And with Kansas City, Kansas located firmly within the coveted "path of totality," according to NASA, and the city by the same name in neighboring Missouri reportedly there within it as well, both are excellent destinations.
So, whether you're road-tripping to the eclipse or planning on enjoying it from a local park, here are some of your best bets in and near the two Kansas City locations.
First, hit up these venues if you're heading to Kansas.
Kansas City T-Bones Viewing Party
According to KCTV News, the Kansas City T-Bones baseball team will host a viewing party on the day of the eclipse. The event will last for two hours, starting at 11:30 a.m. and wrapping up at 1:30 p.m. Aug. 21, although the eclipse itself will last only for seconds or minutes. To get tickets, those interested can call the T-Bones at (913) 328-2255 or visit the team's website. This, undoubtedly, will be a great option for those with kids.
Rowe Ridge Vineyard & Winery Viewing Party
And those getting a babysitter and making the event into a date have even more choices. Another viewing party in Kansas City, Kansas will take place at the Rowe Ridge Vineyard & Winery, where attendees can enjoy drinks and pizza on the winery's deck between 11 a.m. and 5 p.m. Aug 21.
And for those headed to Missouri instead, there are plenty of good options.
City Market Total Eclipse Watch Party
Between 11:30 a.m. and 2:30 a.m. Aug. 21, Kansas City, Missouri's City Market will host a whole roster of kid-friendly eclipse activities. From yoga, to a DJ dance party to educational sessions about the eclipse, there will be plenty of fun to bookend the total eclipse, which is set to hit shortly after 1 p.m. local time.
St. Joseph, Missouri
According to NASA, St. Joseph, Missouri, is also in the path of totality, and it's only about an hour's drive from Kansas City. KSHB Kansas City reported that St. Joseph "has a long history of science, astrology, and astronomy" and that it's "the third best place in the country to see The Great American Eclipse." A full list of eclipse activities there can be found here, and they include must-see events like a pre-eclipse history lesson in a one-room schoolhouse.
So, anyone with the time, means, and the inclination should bust out those solar eclipse glasses and start making plans.