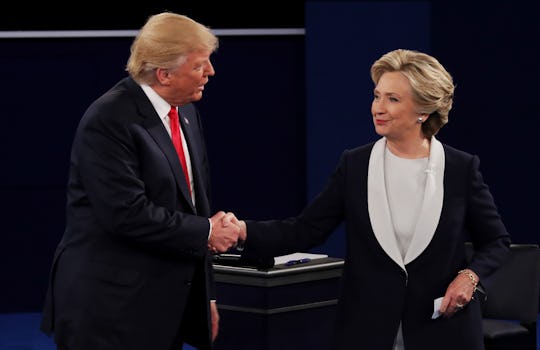 Chip Somodevilla/Getty Images News/Getty Images
Where To Watch The Third Presidential Debate & View The Final 2016 Showdown
Democrat Hillary Clinton and Republican Donald Trump will duke it out one final time at the third presidential debate on Wednesday, Oct. 19 at 9 p.m ET. And while the first and second debates brought in record high numbers of viewers, many voters were left with even more questions than answers after tuning in. For that reason, finding where to watch the third presidential debate, which is slated to be held at the University of Nevada, Las Vegas, is going to be a top priority, because Election Day is right around the corner and this is the last chance for undecided voters to pick a side.
Viewing options are bountiful as the debate will be broadcast simultaneously on multiple television channels. At 9 p.m. ET that night, you can tune into C-SPAN, ABC, CBS, Fox, and NBC, as well as various cable news channels, including CNN, Fox News, MSNBC and others. Quite simply, the debate will be really hard to avoid, even if you're trying to sit this one out.
But you shouldn't. Considering how much has transpired since the second debate, the comments, answers, and plans that the presidential candidates will discuss at the final debate are going to be crucial pieces into this presidential puzzle of an election year.
If you're sans television, don't worry that you'll miss it because there are plenty of streaming options as well. NBC News, The Washington Post, Telemundo, PBS, Bloomberg, and Fox News will all be streaming the third presidential debate online. Additionally, ABC News, Fox News, C-SPAN, The New York Times, CNBC, and Telemundo will also stream the debates on Facebook Live.
Like the previous debate, the third meet-up will also be divided into six timed segments of approximately 15 minutes for each major topic selected by the debate's moderator, Chris Wallace of Fox News.
According the Fox News, the topics that will be discussed include debt and entitlements, immigration, the economy, the Supreme Court, foreign hot spots, and fitness to be president.
Although it's unlikely, according to New York Magazine, Republican nominee Trump alluded that he may skip the third presidential debate because he says the Commission for Presidential Debates is "rigged."
"The head guy worked for Bill Clinton. Ay yai yai. What a rigged deal this is," Trump said at a rally in Florida on Wednesday, according to New York Magazine. "I have no respect for that group, by the way, I'm done."
Many on social media have suggested that the third debate be cancelled altogether because this election cycle has been too much handle as it is. And at many times, it has been. But the final POTUS debate comes as a pivotal point during the presidential race, so keeping informed on the candidates and their behavioral responses to stressful situations is key to making an informed decision on Nov. 8.
These debates have been a rough ride for everyone. But thanks to the team at Jimmy Kimmel Live, right after the third debate, viewers will get a comedic break from politics as the late night host interviews online sensation from the second debate, the charming and hilarious red sweater-wearing Ken Bone. And that will make watching the final debate worthwhile.