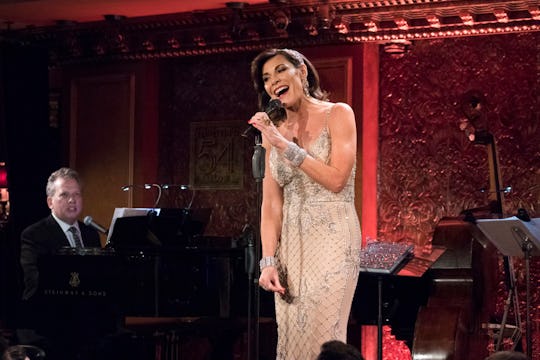 Heidi Gutman/Bravo
'RHONY' Fans Can Now See Luann's Cabaret Shows
No one can ever accuse the women of The Real Housewives of New York of being boring. On Tuesday's season finale, Luann de Lesseps introduced the rest of the cast to her cabaret show, #CountessAndFriends, which was definitely something to see. It's all in a day's work on RHONY, but after seeing the performance, fans are probably wondering, where was Luann's cabaret performed in New York City? The RHONY star actually has more than one location where she performs her show, but the one seen on the finale was at Feinstein's/54 Below.
According to Luann's website, she has another upcoming show at the same location on September 10, so you can buy tickets for the show on her website and see her live too. Before then, however, Luann has an August 24 cabaret show in Atlantic City at The Borgata's Music Box Theater. On Luann's website, it says that more shows will be announced, so fans of RHONY and #CountessAndFriends will likely be able to catch her at more shows at either location in the coming months.
The RHONY cast is already full of glitz and glamour on a daily basis, so if Luann can stand out from that and shine, you know her cabaret show is kind of a big deal.
Before Luann was a cabaret dancer headlining her own show, she was already an author, actress, and singer, but most RHONY fans probably already knew that. Her dance songs include "Money Can't Buy You Class", "Chic C'est La Vie," and "Girl Code." And apparently she's working on another single to add to the list. Luann's bio on her website says that she's currently working on a second book as well. At least it's clear she's been keeping busy.
Of course life hasn't been all jazz numbers and bejeweled jumpsuits for Lu lately. The past year or so has included a divorce, an arrest, and getting sued by her children. In July, she entered an alcohol treatment facility to get help after relapsing and, Bethenny Frankel told People at the time, the #CountessAndFriends star was intent on getting back to her show as soon as possible. "Luann loves doing the cabaret," Bethenny, who Luann had reportedly appointed to speak on her behalf, said. "She's taking the necessary steps to get better so that the show can go on."
A Vanity Fair review of Luann's cabaret show in March said that the line for the show was out the door and down the street and that fans had managed to fill up all of the available seats. That's not too surprising, since viewers saw the crowd that had gathered for her first show on RHONY. According to the review, "When Luann de Lesseps entered that room, every seat was the right one." With accolades like that, who needs Real Housewives, am I right?
Luann's upcoming cabaret shows aren't yet sold out, so if you want to see what all the fuss is or see her in real life, you can buy tickets now. Tickets for her August 24 show in Atlantic City range from $55-$65. If you want to check out Luann's New York cabaret performance, however, it will run you a little more cash. Tickets range from $80-$170 and there's a $25 food and beverage minimum. And if you purchase your ticket at the door, there's an additional $6 charge. It may be substantially more costly than Luann's Atlantic City show, but it's also a small price to pay for dedicated RHONY fans.