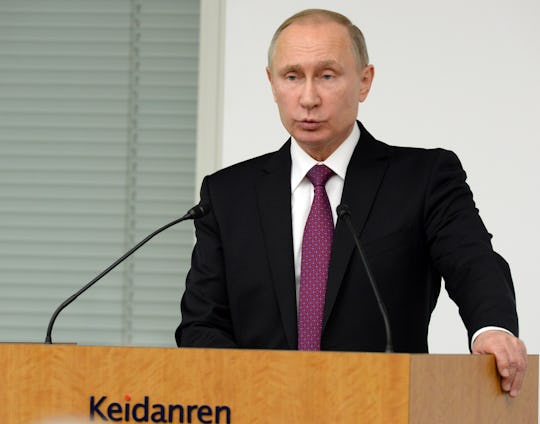 Pool/Getty Images News/Getty Images
Was Putin In St. Petersburg During The Metro Explosions?
On Monday, April 3, a devastating explosion took place at a metro train in the Russian city of St. Petersburg, leaving dozens injured and many more dead. According to CNN, seven more of St. Petersburg's metro stations have closed in the wake of the explosion as officials determine what caused the explosion and care for the victims: Victory Park, Electrosila, Moscow Gate, Frunzenskaya, the Technological Institute, Sennaya Ploshchad, and Gostiny Dvor have all closed. Because it's known as Russia's "Second City," many are many are curious where was Putin during the St. Petersburg metro explosion? And has he commented at all on what took place in St. Petersburg this afternoon?
According to the AP, Russian news agencies have quoted Putin spokesman Dmitry Peskov saying that President Putin had been informed about the explosion and plans to visit St. Petersburg some time on Monday. Peskov was also quoted as saying that Putin planned to hold talks with Belarusian President Alexander Lukashenko later in the day on Monday as scheduled. CNN reported via Russian state media that Putin was actually in St. Petersburg speaking at an event prior to the attacks and has "expressed his condolences to the victims." Russia state media also reported that Putin has already spoken to the FSB (the principal security agency in Russia) security services about the ongoing investigation.
State media reported via CNN that, at this time, Putin was "not ruling out any causes behind the explosion." He continued:
The reasons for the explosion are unknown, so it's too early to talk about it. The investigation will show what happened. Naturally, we always consider all options — both domestic and criminal, primarily incidents of a terrorist nature.
At 3:45 p.m. local time in Russia, Russian news agencies Interfax and Tass were both reporting 10 dead from the blast on the St. Petersburg subway line. Viktor Ozervov, a Russian Senator, told Interfax that the explosion "looks like a terrorist attack." Of course, calling the St. Petersburg attack terrorism so early on in an investigation does little to actually help the investigation or the national pulse in the aftermath of such a terrible blow. Though it's the president's job to be transparent about what's taking place inside his country (and let's face it, transparency is not Putin's strong suit), using politically pointed language like "terrorism" and "of a terrorist nature" only incite more fear and violence in the long term among its people.
Thankfully, Putin wasn't harmed in the attack, even if he was in St. Petersburg earlier on in the day. As more details emerge, the hows and whys of what happened in St. Petersburg will come to light. In moments like this, the truth and facts matter heavily. The world would do well to remember that, as would the Russian president.