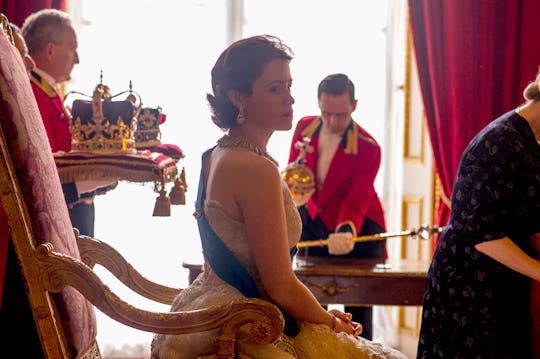 Alex Bailey/Netflix
Where Was Queen Elizabeth II's Coronation? 'The Crown' Revisits Important Royal Events
Netflix's newest original series, The Crown, may be about Queen Elizabeth II's rise to power as she takes over the throne after her father's death, but there are so many important royal events and milestones that lead up to that to enjoy first — one of which involves seeing her literally become crowned. So where was the real Queen Elizabeth II's coronation? On the show, viewers see the ceremony in a huge church not unlike the one she gets married to Prince Philip in. And in real life, that's pretty accurate.
Queen Elizabeth II and Prince Philip were married at Westminster Abbey in 1947 and just six years later, on June 2, 1953, they returned to the now 926-year-old church for Queen Elizabeth II's coronation ceremony. On the sunny day of her official ascension to power, it's estimated that around three million people were seen lining the streets of London in celebration and the BBC set up their largest live broadcast, enabling millions more from around the world to be able to tune into the ceremony both on TV and radio.
In total, about 20 million people are said to have watched Queen Elizabeth II's coronation, and the fact that it was a televised event made it all the more special and important, since before this, such royal events weren't televised worldwide.
But while the broadcast showed the handing over of the four symbols of authority in England — the royal ring, the orb, the rod of mercy, and the scepter — the actual anointing portion of the ceremony remained untelevised because of how sacred that part of the ceremony is. Still, to be able to share this historic royal moment with the entire world opened the door, in a way, for future royal events to be followed and appreciated by other countries who weren't directly linked to England.
On The Crown, viewers see Queen Elizabeth II's coronation ceremony and how it was Prince Philip who pushed for the event to be televised, believing it would humanize her to the public. By seeing the event unfold with their own two eyes, Prince Philip thought it would feel as though the people were welcoming her into their homes, making them more likely to accept her as the new Queen of England. It's not clear if that is also historically accurate, but the Queen did hold strong reservations about having her coronation televised. In the end, though, she decided in favor of televising the event at Westminster Abbey.
Since then, the world has become obsessed with tracking the Royal Family's whereabouts. It's no longer uncommon for important royal events to be captured on TV for all to enjoy. And, in a way, we have Queen Elizabeth II to thank for that fact.