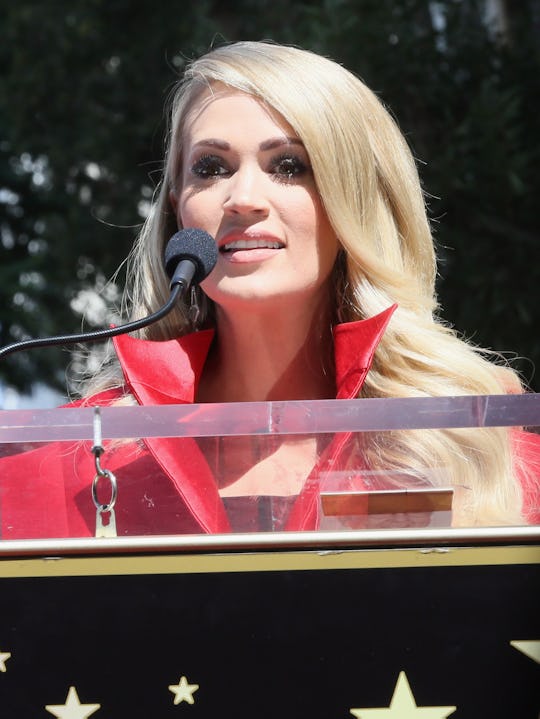 David Livingston/Getty Images Entertainment/Getty Images
Where Will Carrie Underwood Give Birth? She's Loyal To Her Hometown
Carrie Underwood is expecting her second baby, this we know for sure. The "Cry Pretty" singer confirmed the news already with her husband, NHL hockey player Mike Fisher, so we're good to go. This is real life. But here's the thing; she's not exactly telling us a whole lot more beyond that. It's like Hey guys, you get to know I'm pregnant but literally nothing more. There are a few details we can probably guess at, however. Like where Carrie Underwood will give birth to her baby this is either a boy or a girl and is due some time within the next six months or so.
The American Idol alum and her husband are already parents to one little boy, 3-year-old son Isaiah. The sweet little family of three announced they would be adding "another fish to their pond" on Aug. 8 with an Instagram post. Ever the clever marketer, Underwood managed to get her pregnancy announcement, her album release date, and news about her upcoming tour promotion for her Cry Pretty album in the same post. Clearly she's already prepared to be a mother of two kids with multitasking skills like that. She said in the Instagram video that "Mike, Isaiah, and I are absolutely over the moon and excited" to be expecting a second child.
In the month since her pregnancy announcement, Underwood hasn't really been willing to share a whole lot more information. Even with talk show host Ellen DeGeneres, who is actually pretty famous for getting celebrities to divulge information on Ellen. She managed to get Underwood to admit she knew the sex of the baby, but the singer wouldn't say what it was:
We like to just kind of hold onto things for a minute. I feel like everybody just knows everything about everybody. So we just like to have a little secret for a bit.
DeGeneres guessed she was having a girl, by the way. So stay tuned to find out if she's correct.
So no word on the sex of the baby or her actual due date, but here's one thing I'm pretty sure we can bank on; where she'll be having her baby. Because this girl is a Nashville girl through and through. After she married Mike Fisher in 2010 the couple moved to Nashville and have been there ever since. They welcomed son Isaiah in Nashville in 2015, and a source close to the couple recently told People that Underwood will probably never leave:
She won't ever leave Nashville because it's where she needs to be for her music even though Mike doesn't have to be here anymore.
Fisher is a retired Nashville Predators hockey player.
I sort of love that Carrie Underwood, who just received her official star on Hollywood's Walk of Fame this week, is so loyal to Nashville. I love that she plays at the Grand Ole' Opry seemingly every chance she gets. I love that she's choosing to raise her family there despite the pull of Hollywood.
But if she could just go ahead and tell us if she's having a boy or a girl that would be fine too.