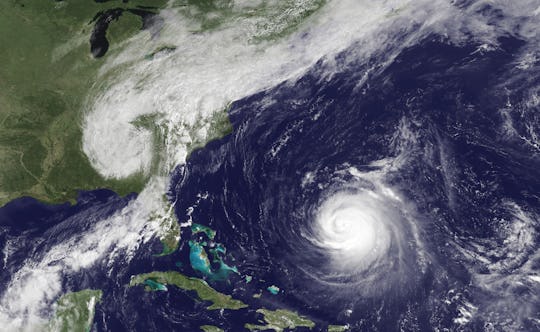 Handout/Getty Images News/Getty Images
This Is Where Hurricane Katia Is Expected To Hit
As if the Atlantic wasn't already getting enough rainy weather. On Wednesday, another tropical storm brewing in the Gulf of Mexico made its turn into hurricane status — dubbed Hurricane Katia — and it will be bringing fresh rain to the east side of Mexico in the coming days. For places that have already been affected by Hurricane Harvey and those worried about Hurricane Irma, the thought of another storm is understandably causing concern, leading many to wonder: just where will Hurricane Katia hit?
At the moment, Katia is reportedly headed towards eastern Mexico, and it's expected to bring heavy rain to Veracruz, Tamaulipas, and Puebla, according to an advisory released by the National Hurricane Center. The hurricane's winds have reached around 75 mph, and it's expected to continue gaining strength in the next 48 hours. In its public advisory, the NHC warned of possible mudslides and flash floods in Veracruz and other areas of eastern Mexico.
According to AccuWeather, however, experts don't expect Hurricane Katia to travel much further north, east, or south this week, and its full effects shouldn't hit the coast of Mexico until Friday. A pocket of dry air over Louisiana and Texas should also keep the hurricane from heading up and battering areas already devastated by Hurricane Harvey last week.
Irma and Katia aren't the only hurricanes in the area causing worry, either. Although Irma has certainly caused the largest commotion. On Wednesday, tropical storm Jose in the Atlantic made the jump to hurricane status, although at the moment it's not a threat to any nearby islands. According to The Independent, projections had seen it following the same path towards the Caribbean as Irma, but it's currently too far out to map a path with any certainty.
Both Jose and Katia are currently Category 1 hurricanes, meaning they're far smaller and less threatening than Hurricane Irma at the moment. (Irma has reached speeds of 165 mph, making it a Category 5 hurricane and one of the most powerful ever recorded, according to Vox.)
With several Atlantic hurricanes all descending upon the area around the same time, however, it's not surprising to see people worried about the trajectories growing storms will take. For the next few days, Katia should be staying put, and when it does hit land and travel, it's expected to head east and south down the coast of Mexico. If you're in a city that could be affected by any of the hurricanes in the area, keep an eye on the news and remember to have an emergency plan in place just in case.
Check out Romper's new video series, Romper's Doula Diaries: