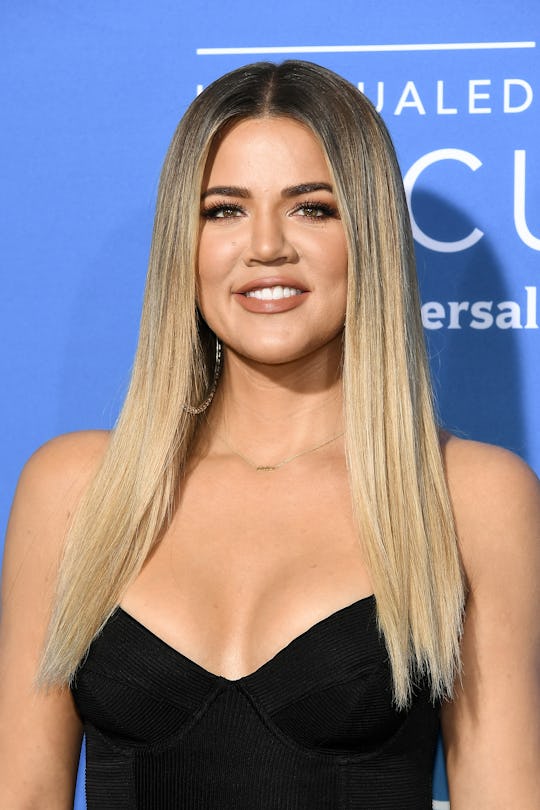 Dia Dipasupil/Getty Images Entertainment/Getty Images
Where Will Khloe Kardashian Raise Her Daughter? Her Future With Tristan Thompson Is Unclear
Finally! The Kardashian Baby Boom (TM) has delivered our newest bundle of joy, and the youngest Kardashian sister is officially a mom. But if other recent news reports are any indication, there's trouble in paradise with this new baby's parents, and it doesn't seem too certain just exactly where Khloe Kardashian will raise her daughter.
Khloe gave birth early in the morning on Thursday, April 12, People confirmed just after TMZ broke the news. The blessed event occurred at a very respectable hour when it comes to babies making their way into the world: around 4 a.m. EDT, according to TMZ, in a hospital just outside Cleveland. By all accounts, it seems like Khloé had her mom and her sister by her side — Kris Jenner and Kim Kardashian flew to Ohio to be with her just the day before, reported People.
"Kris is in Cleveland now giving Khloé as much support as possible and Kim is also heading there as well," an "insider" told People, adding:
They're trying to keep her emotionally stable. The whole family is beyond pissed at Tristan. The goal is to get Khloé out of there as fast as they can without jeopardizing the safety of the baby after she's arrived. Khloé just wants to be home.
Ah yes. About that "beyond pissed at Tristan" bit. ICYMI, the father of Khloé's baby is in a ~smidge~ of hot water right now, after reports that Tristan has been cheating on his pregnant girlfriend surfaced on The Daily Mail on Tuesday, just two days before Khloé gave birth. (Romper's requests for comment from both Kardashian and Thompson's teams were not immediately returned.) The day before that, on Monday, Khloé took to Instagram to share this sweet message for her future daughter...
"We are ready whenever you are little mama 🦋" captioned the mom-to-be.
It's sure not hard to understand why the people who love Khloé are angry with her baby daddy. Khloé has been so openly thrilled about this pregnancy, from the moment she shared the news on social media, expressing her heartfelt joy that her "greatest dream" had been realized.
All kidding about Kris Jenner's ability to masterfully manipulate the media news cycle aside, it's an unfortunate fact that these cheating "scandal" stories and rumors are now going to being linked to every single mention of Khloé's joyful new baby news (this one included).
Of course, the fact of life is that babies arrive every day (and in the middle of every night!), and rarely do they materialize into picture-perfect situations. Life is messy and relationships are complicated. That may be the most cliché thing possible to type, but it's true. No matter what happens next, the most important thing is that this new little person is making her way into a world where she is already incredibly loved and cherished.
But also of course, to use another cliche, the Kardashian life is an open book, so fans are clearly wondering where this new baby girl will call home. She's a born and bred California girl, but Khloé has been spending a lot of time in Cleveland, as Us Weekly reported, which is where Tristan plays basketball for the Cleveland Cavaliers. Khloe even hosted Thanksgiving in Cleveland this past holiday season.
Maybe baby and mama will continue to split their time between Los Angeles and Cleveland, a place that Khloé seems to have grown fond of over the past year, in part because it's such a different lifestyle. Khloe told The Talk that she "loves" the Midwestern city, partly because it feels so "normal."
"It's this home, family thing that I've been craving that I get to have in Cleveland," she shared.
Luckily, this fierce new mama has the love, the resources, and the support to give her little girl the best in life. No matter where they call home.
Check out Romper's new video series, Bearing The Motherload, where disagreeing parents from different sides of an issue sit down with a mediator and talk about how to support (and not judge) each other's parenting perspectives. New episodes air Mondays on Facebook.