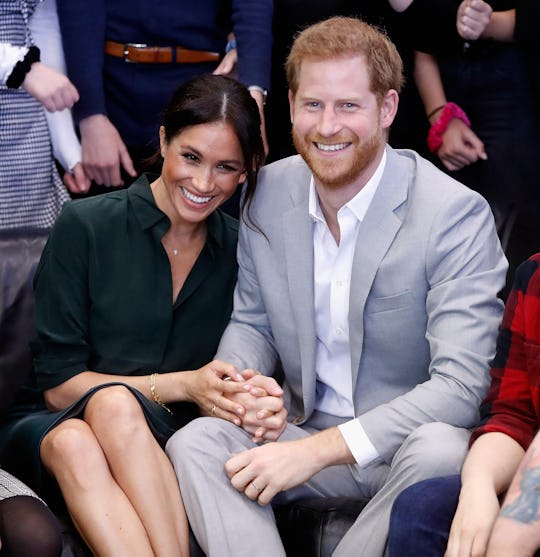 Chris Jackson/Getty Images Entertainment/Getty Images
Why Meghan Markle Will Likely Give Birth At The Lindo Wing, Just Like Kate Middleton
On Monday, Kensington Palace confirmed the news we've all been waiting for — the Duke and Duchess of Sussex are expecting their first child. The announcement came hours after the couple touched down in Australia to kick off their 16-day royal tour, and though only a few details have been officially confirmed, speculation into pretty much every element of their birth plan is definitely under way. For one, royal watchers are curious as to where Meghan Markle will give birth when she delivers her baby in the spring, but even without a statement from the palace, it doesn't seem too difficult to guess. That's because Harry's brother, Prince William — as well as his own parents, Prince Charles, Prince of Wales, and the late Diana, Princess of Wales — have already seemingly set a royal precedent by choosing the private Lindo Wing at London's St. Mary's Hospital.
Though historically, royal babies were delivered inside the palace, these days, the Lindo Wing steps are well-known for being where British royal babies make their world debut. In the 80s, according to People, Princess Diana and Prince Charles chose the Lindo Wing for the births of both Prince William and Prince Harry, and after each delivery, photographers waited eagerly to snap the first shot of the family when they emerged from the hospital doors. In 2013, Prince William and Duchess Kate decided to continue to tradition, and welcomed their first child, Prince George, at the Lindo Wing, and have since returned twice more to deliver his siblings, Princess Charlotte and Prince Louis.
Despite simply being a stone's throw away from the royals' residence (the Lindo Wing is less than a 10-minute drive from Kensington Palace), there are a number of other reasons why it's become an obvious go-to for the family.
For one, the private maternity wing is both majorly swanky and discrete — it's basically the hospital equivalent of a five-star hotel. And if you can afford the price tag, it sounds like it would be a dream location to give birth in. According to The Sun, a basic one-night birth package in a Lindo Wing suite costs around $8,200, and entitles guests to a private room with an en-suite bathroom stocked with "a good selection of toiletries and cosmetics;" a menu of chef-prepared meals (including optional wine and champagne); an afternoon tea service; satellite TV and wifi; diapers and formula for your baby; and even massage and "postnatal physiotherapy" for new moms.
But it's not simply a matter of luxurious details: 38-year-old London mom Katherine Filkins chose the Lindo Wing for the birth of her second child in 2017, and in April, she told Hello! that in addition to the fancy amenities, she also received top medical care, with a midwife dedicated solely to her during the delivery. And her husband was taken care of too — Filkins said he also got a bed to sleep in during their stay, along with "a selection of meals to choose from the menu every day" (that definitely beats the maternity ward vending machines).
What isn't quite as clear though is how similar Meghan and Prince Harry's birth experience at the Lindo Wing might be compared to Kate and Prince William's. Kate of course, famously emerged from hospital looking impossibly glamorous only hours after delivering each of her children — likely simply because the sea of impatient photographers and reporters outside the hospital meant she and William might as well make an appearance as quickly as possible so they can return back home in peace.
Given the huge amount of attention that Meghan and Prince Harry also get, it's likely that they will face the same expectation. But then again, as heir to the British throne, Prince William technically has a greater public duty than his younger brother.
For one, Prince William and Kate's 2011 wedding was considered "an official state occasion," according to CNN, which meant they were expected to invite international political leaders and royals from other countries. Prince Harry and Meghan's, on the other hand, was considered to be a private event, which allowed them more leeway in terms of their guest list. And though Meghan and Harry did receive new royal titles following their wedding like Kate and William, their children will not necessarily be princes or princesses.
Royal tradition dictates that, actually, only "the oldest son of the oldest son of the Prince of Wales" — aka Prince George — would get to be considered a prince, according to The Independent, though in 2012, the Queen issued a Letters Patent that ensured that all of the Cambridge children would be given similar royal titles. Unless the monarch issues a similar exception for Meghan and Prince Harry's children though, they will simply be known instead as Lord or Lady Mountbatten-Windsor, according to The Independent.
Either way though, a lack of fancy royal title wouldn't necessarily preclude the couple from choosing the Lindo Wing — it's even thought that Kate's sister, Pippa Middleton, will be delivering her first child there any day now. And if they don't have to follow the same royal rules, it might at least mean that Meghan can have some extra time to relax, recover, and take advantage of that post-delivery massage.
Since Prince Harry and Meghan are still big-time celebrities though, it seems likely that their birth experience in the spring will look a lot like that of the Cambridges before them. And that means that chances are good their little one will also make his or her debut on the Lindo Wing steps.