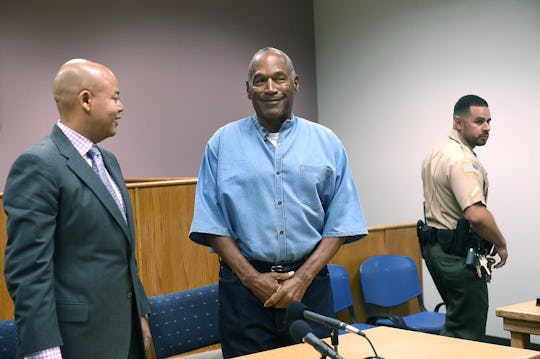 Pool/Getty Images News/Getty Images
OJ Simpson Isn't Staying In Vegas Post-Prison
On Thursday, the nation jumped into a time machine and returned to the early '90s where they spent their lunch hour watching OJ Simpson's legal woes. Unlike the infamous 1994 to 1995 trial where Simpson was found not guilty, the July 2017 hearing was for Simpson to be considered for parole following a Las Vegas robbery in 2007. The hearing granted the former football star parole, which may lead many to wonder where OJ Simpson will live after he is released from prison. Well, he has already thought of that.
According to The Washington Post, OJ Simpson will be eligible for release from prison on or after Oct. 1, 2017. Until then, he will remain in the prison he has been in for almost nine years until the fall. After that, he will be released, although there can be supervision conditions put in place for after his release. Up until Thursday's hearing, Simpson was to remain in prison until 2022.
The granted parole comes as a shock to some, considering many were quick to consider Simpson's appearance on the stand as "unapologetic," as the New York Post puts it. Others were put off by the amount of levity the hearing seemed to entail, though at the end of the day, it was the answers and behavior Simpson relayed to the commissioners that mattered. For his part, Simpson played into wanting to move on with his life and spend time with his family after his release. To do so, he explained to the commissioners, he would move to Florida.
"I could stay in Nevada, but I don't think you guys want me here." The commissioner responded, "No comment, sir."
Family played a big part in Simpson's appeal to the commissioners. In one moment, he said, "I'm at a point in my life where all I want to do is spend as much time as I can with my children and my friends," noting that he had missed 36 birthdays among his four children throughout his time away.
Simpson's daughter, Arnelle Simpson, appealed to the commissioners, as well, explaining how hard the last nine years have been for the family, calling it an "ordeal." "The choices he made nine years ago were clearly wrong and … counterproductive. … My dad recognizes that he took the wrong approach and could have handled the situation differently," she said to the commissioners in front of her.
While we'll still have to wait until the fall for Simpson to make good on any promise of moving out of Vegas, it seems, for now, he has plans to head south.