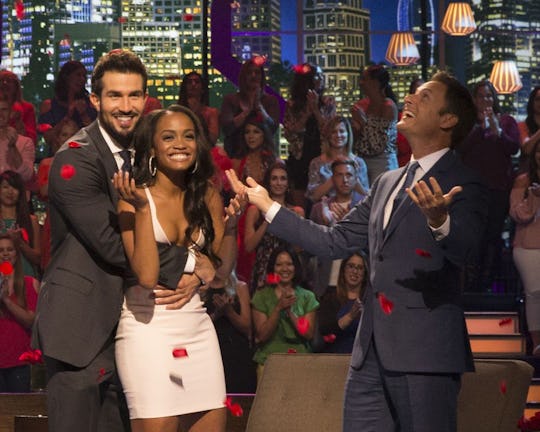 Paul Hebert/ABC
Rachel & Bryan Have A Ton Of Planning To Do Post-'Bachelorette'
Bachelor Nation is still reeling over the complicated engagement-by-default conclusion of Rachel Lindsay's Bachelorette season. At the end of the season, she was left with a choice between Peter Kraus, a charming, adorably gap-toothed, and reasonably hesitant to propose after six weeks personal trainer who was the overwhelming fan favorite, and Bryan Abasolo, a too-slick chiropractor from Miami with whom Rachel had off-the-charts chemistry but also a suspiciously conflict-free relationship. It seemed too good to be true, but Rachel couldn't ignore Bryan's willingness to propose, so she picked him. So where will Bachelorette couple Rachel and Bryan get married? They still have a bunch of stuff to figure out.
For example, they haven't even settled on where they're going to live together yet. They're still dating long-distance, with Rachel in Dallas and Bryan in Miami. But Bryan also told People in the couple's first big post-show interview that they both love Los Angeles and are considering relocating there. (It's a popular move for Bachelor franchise favorites, who often use the show as a launch pad for their own creative endeavors.) So that definitely seems like the first big hurdle to clear before choosing a wedding location. We do know that the couple is planning to get married either late next year or early in 2019, thanks to Rachel's dreams of a winter wedding.
Rachel also told People that the first thing on their post-show docket is a multi-city engagement party tour. First they're going to her hometown of Dallas, then to Houston to visit with her extended family, then to Miami to celebrate with Bryan's family. If the engagement lasts, it's probably safe to assume that ABC will vie really, really hard for the honor of broadcasting the couple's wedding. Turning successful Bachelor franchise romances into televised wedding specials officiated by Chris Harrison has been a favorite stunt of the show in the past.
Although Rachel was conspicuously not into the contrived, edited, fantasy aspect of the show, she may be willing to put her reality TV skepticism aside now that she's happily engaged and accept the offer of a dream wedding in exchange for millions of viewers tuning in. Then again, considering how hard Twitter is taking Peter's dismissal, more people may be hate-watching her wedding than supporting it.
But in the end, Rachel went in with a singular goal — to walk away an engaged woman — and she got what she wanted, even if it wasn't with the guy she or any of the rest of us were hoping for.