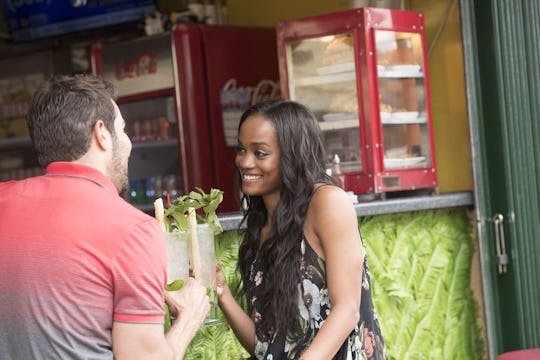 Rodrigo Varela/ABC
A 'Bachelorette' TV Wedding Could Be In Rachel's Future
Every season that The Bachelor or The Bachelorette ends in an engagement, Chris Harrison tends to ask whether or not the new couple wants to get married on the After the Final Rose special, on the off chance that they might want to continue their televised relationship on, well, TV. But when it comes to the latest engaged couple from Bachelor Nation, will The Bachelorette's Rachel and Bryan get married on TV?
The couple have plans to get married, but unfortunately for viewers, it won't be anytime soon. At least, not soon enough for fans to get to see it on TV right now. It's not the wildest idea to suggest that Bryan and Rachel get married on TV, but since Rachel told E! News that they aren't getting married anytime soon, I'd say no televised wedding is on the horizon.
Of course, they wouldn't be the first Bachelor Nation couple to get married on TV if they did decide to go that route. Just this year, Carly Waddell and Evan Bass got married on the set of Bachelor in Paradise after meeting and falling in love during Season 3. But before that, Tanner Tolbert and Jade Roper also had a televised wedding with Chris Harrison officiating.
So while it wouldn't be out of the realm of possibilities for Bryan and Rachel to get married on in front of the cameras, it also seems like their actual wedding isn't on the immediate agenda. "Obviously, I want to get married, I'm not going to deny that," Rachel told E! News. "But I'm not planning a wedding anytime soon."
That leaves out the possibility of an impromptu wedding happening on After the Final Rose, but there's still time for ABC to whip up some kind of special for The Bachelorette couple. Before The Bachelorette season finale though, Rachel did tell People magazine that she and her fiancé are both romantics at heart, so I don't know how romantic a televised wedding would be. But to each their own, I suppose.
"Ideally, I'd like to get married next year, but who knows?," Rachel added. "He's more of a hopeless romantic than I am, so he wants to wait a year too, but probably sooner. I think he's just following my lead." That doesn't totally rule out a wedding on TV for Rachel and Bryan, and they'd be following in a long line of other Bachelor Nation stars, but right now it seems like being engaged is enough for the couple.