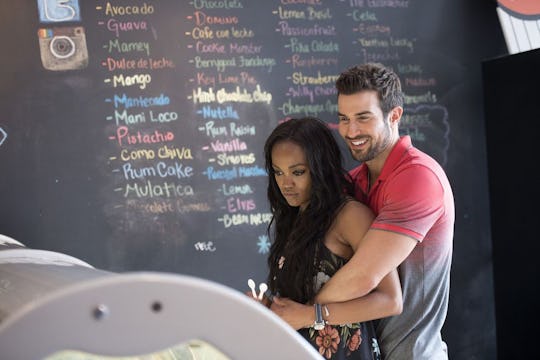 Rodrigo Varela/ABC
Rachel's Parents Aren't Going To Go Easy On Bryan On 'The Bachelorette'
Although Rachel has said more than once that she didn't want this season to be centered around race, there's no denying that it's come up quite a few times. And when the guys meet her parents Monday night, it's likely going to come up again. But what do Rachel's parents think of Bryan on The Bachelorette? He just might be Rachel's favorite right now, so it's a fair question and one that should probably be addressed before the two of them start naming their future children.
The last time viewers met Rachel's family, it was during her hometown date on Nick Viall's season of The Bachelor and Mama Lindsay definitely had some concerns for Nick that she'll probably have for Bryan too. Rachel's mom asked Nick, "Have you ever dated a black girl?" which you can't blame her for wondering since he was her daughter's potential husband.
And chance are, the topic of race is going to come up and be a concern when Bryan meets Rachel's parents on The Bachelorette. In the promo for Episode 9, Rachel's family seems to have concerns about Eric's ability to commit since this is the first time he's ever been in love, as well as whether or not Peter is all in for marriage. And when it comes to Bryan, it seems like Rachel's mom is going to have the same concerns that she had with Nick.
At one point in the preview, Rachel's mom tells Bryan, "You are in a bubble," of course referring to the fact that his and Rachel's relationship hasn't really been tested out in the real world while filming The Bachelorette. Since Rachel's kept Bryan in the running this long, I have to assume that there are some qualities, other than being really good looking and a great kisser, that attracted her to him.
Since she's obviously close to her family, Bryan's other important qualities will probably shine through enough to gain their approval. But since this is an interracial relationship, her family will likely want to have a talk about that during their initial meeting on Monday night's episode. At least Rachel's meeting with Bryan's family ended well.
After Rachel met Bryan's mom on The Bachelorette and after Olga jokingly (it was a joke, right?) threatened her life if she ever hurt her son, any tension or worry seemed to dissipate and Rachel even wrote on her People.com blog, "I felt welcomed by his family even while his mom threatened my life! I appreciated the love she has for her son."
So even if Rachel's family has some concerns about Bryan initially, something tells me he'll be able to win them over in the end.