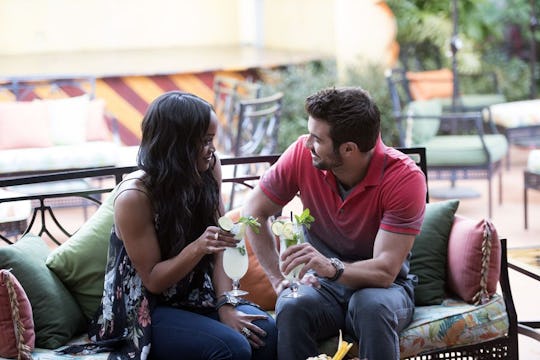 Rodrigo Varela/ABC
These Clues Suggest That Bryan Is 'The Bachelorette' Winner
It finally happened. Rachel chose her final four on The Bachelorette and now we're heading fast into hometown dates. Being at this point in the season also means that Rachel is that much closer to choosing her future husband though, and since he's been an obvious favorite, are Bryan and Rachel engaged on The Bachelorette? There are definitely clues to suggest this could be the case.
On Monday's episode, Bryan got yet another one-on-one date (side note: poor Adam and Matt, who looked every bit as disappointed as I felt for them) and it seems like Rachel basically used it as a way to drive home her strong feelings for him. There weren't many doubts put out there and instead, she took him to a jewelry store and bought herself and Bryan matching Breitling watches. Because those particular watches go for thousands of dollars each, I have to assume that the pricey watch was paid for by ABC and not Rachel herself, but it was still an extravagant gift to choose to give to Bryan over any of the other men.
And in Bryan's Instagram photos now, The Bachelorette contestant is still wearing the expensive timepiece, like constantly. Unfortunately it's not an engagement ring and he would probably be wearing it even if Rachel didn't pick him, but there are too many signs that point to Bryan and Rachel being engaged after The Bachelorette.
Since The Bachelorette is already finished filming and has been for weeks now, in real time, Rachel is likely engaging in frequent secret visits with her new fiancé. So naturally, there haven't been any new Instagram photos of Bryan and Rachel together, but there have been some clues that they each let out even if they didn't mean to.
First, there's the watch, which again Bryan might just be wearing as a fond memory of the time he went on national television to compete for a woman's love. But it might also be because he's wearing the first gift his soon-to-be wife gave him.
Then, there's what I like to call couch-gate. On June 8, Rachel posted a photo of herself on a couch with Copper and there wasn't much to it except the fact that Copper is still as cute as ever. But before that, on June 1, Bryan posted a similar photo on a very similiar looking couch with his own dog. Coincidence? I refuse to believe in that when it comes to Bachelor Nation.
And now, it looks like recently Rachel was at the same sport event as Bryan. There's a photo of Bryan sitting in the stands with former Bachelorette contestant, Will, at the baseball All Star Game, so maybe there were more people from Bachelor Nation in attendance. But Rachel also posted a photo of herself at what looked like the same game at Marlins Park in Miami.
Hometown dates are where the real test will be for each of the remaining men, but right now, it definitely looks like Bryan and Rachel are engaged after The Bachelorette. So no, all of those makeout sessions weren't for nothing.