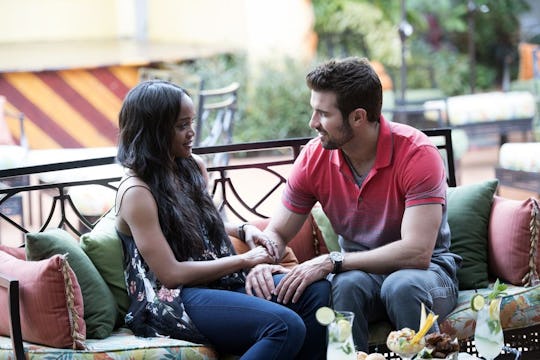 Rodrigo Varela/ABC
Bryan's 'Bachelorette' Hometown Date May Tease His Victory
From the minute Rachel saw Bryan and squealed out a very girlfriend-like "Hi, baby" and jumped into his arms, it was obvious that there's a good chance Bryan's endgame for her. And Bryan's hometown date on The Bachelorette might prove that he wins Rachel's heart and the chance to propose to her at the end of all of this.
He hasn't been shy about putting out those "I love you" claims and the entire time they explored his hometown on Monday's episode of The Bachelorette, they already seemed like a couple. Like, the only couple on the show, as opposed to the other three relationships Rachel's currently in. Of course there was that scary and intimidating moment where Rachel sat with Bryan's mom, but in the end, Olga gave Rachel her stamp approval and now that the hard part is out of the way, Bryan could really be the one Rachel picks in the end.
Rachel and Bryan have had undeniable chemistry since the beginning the of the season (the premiere episode, to be exact), and as the season went on they only continued to grow stronger together, so of course Bryan's hometown date on The Bachelorette would go well. That doesn't mean that Eric's didn't prove to be equally successful, but the way Rachel and Bryan were already acting like an actual couple shows that he may be the one she picks.
While some viewers might see Rachel and Bryan's relationship as one that's more physical than anything else at this point, I think it's just been that they've found it so easy to connect that there hasn't been much room for any drama. Unless, of course, you count that stuff with his mom, but that's forgivable.
Everything about Rachel and Bryan's relationship has come pretty easy for them, without any doubts on either of their parts, and while that alone doesn't mean they're meant to be, there's also something to be said for what they have growing between them. And if we're all watching the same show, it's pretty clear that they have the potential to be the couple at the end of the season.
When Rachel spoke to Chris Harrison before the rose ceremony, she didn't even have anything negative to say about Bryan and just replayed their successful hometown visit and the fact that he's in love with her, which she seems to like the idea of. In other words, Bryan and Rachel are more than likely going to end up together at the end of the season. And if that does turn out to be the case, I'm so here for it.