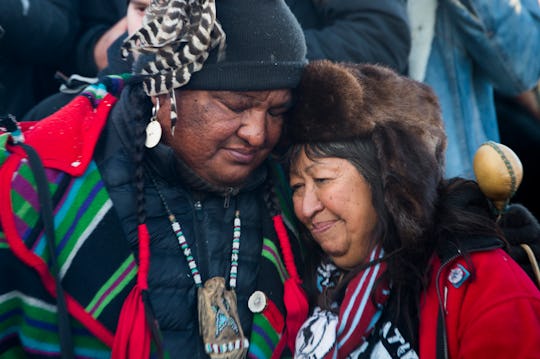 JIM WATSON/AFP/Getty Images
Where Will The Dakota Access Pipeline Go Now? It's Unclear At This Point
Protestors from the Standing Rock Sioux Tribe and other activists celebrated a big win Sunday, when the U.S. Army Corps of Engineers said it would not approve a key permit allowing the controversial Dakota Access Pipeline to cross under Lake Oahe in North Dakota. Instead, the Army said it would look for alternative routes to finish building the $3.8 billion pipeline, which could necessitate the undertaking of an environmental impact statement with the potential to block construction for months or even years to come, according to The New York Times. Despite the victory, questions remain: Is the fight over? Will protestors break camp and go home? And where will the Dakota Access Pipeline go now?
First things first: Standing Rock Sioux chairman Dave Archambault II has encouraged protestors to return home to their families, reasoning there would be no new developments over the winter before President-elect Donald Trump is inaugurated in January.
We're thankful for everyone who joined this cause and stood with us. The people who are supporting us ... they can return home and enjoy this winter with their families. Same with law enforcement. I am asking them to go.
However, many occupants of the protest area showed no signs of leaving. "As water protectors, we have a responsibility to being stewards of the water," John Bigelow, a Standing Rock Sioux member and spokesperson for the camp-run media service, told reporters and campers Monday afternoon. "Therefore, we declare here today, we are not going anywhere."
Bigelow's statement echoed a general consensus among protesters that the Army's decision isn't permanent and that Standing Rock's water supply, burial grounds, and ancestrally sacred lands could still be in jeopardy if construction resumes on the contested route.
According to Minnesota Public Radio, Energy Transfer Partners — the company building the 1,172-mile long pipeline, intended to transport up to 570,000 barrels of oil a day across four states — has said it already considered other routes, but settled on Lake Oahe because it was the least environmentally risky. One such alternate route had the DAPL crossing the Missouri River north of Bismarck, North Dakota, but would have bypassed the 1851 Fort Laramie Treaty area, a tract of land where the Sioux Indian tribes were guaranteed hunting and fishing rights in exchange for being forced onto smaller reservations in the late 19th century. Energy Transfer Partners cited problems with that alternative and decided on the current route, just north of the Standing Rock Indian Reservation.
It's important to note the statement from the Army Corps of Engineers does not explicitly state it will never authorize the required easement. It simply emphasizes the need to explore substitute routes, which may include the route north of Bismarck along with others that have yet to be identified.
Given the project is 92 percent complete overall, chances are the DAPL will move forward in some form or another. Further, Trump (who holds stake in Energy Transfer Partners, whose CEO also donated to Trump's campaign) has expressed support for the pipeline's completion, and a statement issued by Energy Transfer Partners indicates the company has no intentions of backing down:
The White House's directive today to the Corps for further delay is just the latest in a series of overt and transparent political actions by an administration which has abandoned the rule of law in favor of currying favor with a narrow and extreme political constituency. ... As stated all along, ETP and SXL are fully committed to ensuring that this vital project is brought to completion and fully expect to complete construction of the pipeline without any additional rerouting in and around Lake Oahe. Nothing this Administration has done today changes that in any way.
Whether the decision is reversed and construction of the DAPL allowed to resume in its current location remains to be seen, but one thing is certain: Protestors may want to prepare themselves for the long and harsh winter ahead.