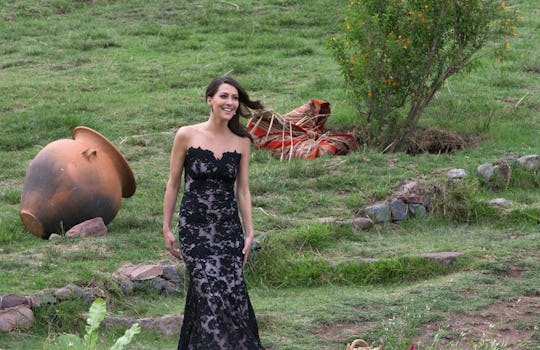 ABC
Becca & Arie's Living Situation Could Get Complicated If She Wins 'The Bachelor'
Arie Luyendyk Jr. and his final two contestants are in Peru awaiting the final rose ceremony of the season, and whatever happens, we know it will be controversial. There's been a lot of chatter about something shady going down in the finale, precipitated by Caroline ominously telling Arie that she "knows what [he] did" during the "Women Tell All" special. The decision is between Becca and Lauren and one of them is bound to leave heartbroken. But fans rooting for Becca may be wondering: where would Becca and Arie live after The Bachelor? The Minneapolis-based publicist is super dedicated to her job, which may pose an obstacle to relocation.
Although Arie claims his ideal partner wouldn't necessarily have to move for him, it's pretty clear that what he envisions is someone entering into the life he's built in Scottsdale, Arizona, rather than starting from scratch in a new city. He passed the real estate licensing exam in August of 2016, which only enables him to practice in the state of Arizona. If he wanted to stay in real estate, he'd have to study for another state's exam and pass before he could work there. In addition to his relatively stationary job, Arie recently bought a huge house in Scottsdale near his family, and he said in his intro package at the beginning of the season that he bought it with the intention of raising a family there.
After a string of relationships flopped due to Arie's intensive racing schedule, it's clear that he's made a huge effort to prime his life for settling down. From choosing a more stable and less dangerous career to making himself the "complete package" by buying a family home near his parents, Arie really seems like he wants someone to move in with him, rather than do the relocating himself. Meanwhile, Becca was born and raised in Minnesota and she's stayed close to home, working at a Minneapolis PR firm for the past four years and counting. She's a Senior Account Executive there and she seems really hands on with clients and committed to her job.
Becca referenced on the show that she and her ex of seven years were long-distance throughout their relationship. If she didn't relocate for a relationship that lasted much longer than her relationship with Arie, it's hard to believe that she would pick up and move for him right away. When they talked about it on their fantasy suite date, Becca admitted that she often did all the traveling in her last relationship, so she wanted someone who was a little more committed to her this time around. It seems like her logistics conversation with Arie centered more around traveling than it did around moving. But the flight from Minneapolis to Phoenix is three and a half hours, which is no easy trip.
For what it's worth, Becca did say in a cutaway interview that she could see a life with Arie involving marriage and a family, so it's possible that she's more willing to relocate to Scottsdale than their conversations about long-distance dating let on. Ultimately, who lives where doesn't usually seem to play a huge role in Bachelor breakups. Most of the time, relationships forged on the series dissolve because the couples simply aren't compatible outside the forced fairytale construct of the show.
Whether or not Becca and Arie can hold each other's interest in the real, mundane world will speak much more to their longevity as a couple than where they live.
Check out Romper's new video series, Romper's Doula Diaries:
Watch full episodes of Romper's Doula Diaries on Facebook Watch.