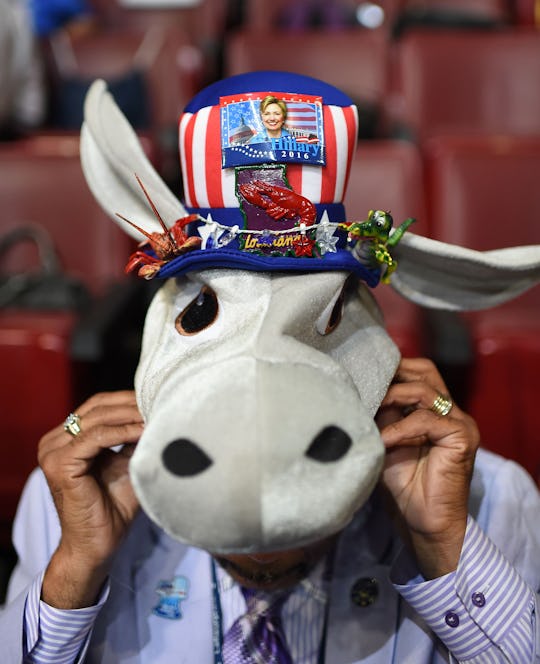 ROBYN BECK/AFP/Getty Images
Which Celebrities Are Protesting The DNC? Be Prepared For Some Drama
Did anyone think it was possible for the Democratic National Convention to genuinely upstage the Republican National Convention? Not this girl here, that's for sure. The RNC held in Cleveland last week, where the GOP officially announced its support for Republican Presidential candidate Donald Trump, was rife with shocking moments. And it's beginning to look like the DNC is not only going to follow suit, but might even eclipse the RNC on the shock-o-meter, if the list of celebrities who will be protesting the DNC is any sort of barometer. Which it should be, because if life has taught us anything, it's this: If celebrities build it, drama will come.
While the DNC has a star-studded and (I'm not going to lie here) oft-puzzling roster of guest speakers who have been proudly declaring "I'm With Her," there has been a growing number of celebrities who are voicing their dissatisfaction not only with the presumptive Democratic Presidential candidate Hillary Clinton, but the entire process itself — not surprising, since WikiLeaks shared almost 20,000 emails from key figures at the DNC this week that suggested there was a definite bias towards Clinton and against her former opponent, Vermont Sen. Bernie Sanders.
Supporters of Sanders, who were already planning on protesting the DNC, have now hit the sweltering streets of Philadelphia in the hundreds, with chants of "Lock her up!" and "Hillary for prison!"(alluding to Clinton's alleged use of her personal email while holding the office of Secretary of State). Some celebrities are joining the fray, letting the DNC know they do not support their choice of candidate... and that they are still "Feeling The Bern."
Here's who's on that list:
Susan Sarandon
Actress and activist Susan Sarandon is a longtime supporter of Bernie Sanders, and made her displeasure with the DNC clear on Monday night at the convention. When a tweet captioned, "Susan Sarandon is having literally the worst time at the #DemConvention" made the rounds, the actress retweeted it with one word; "Accurate." In the past, Sarandon has said that she thinks Clinton could be "more dangerous than Trump".
Shailene Woodley
Young actress Shailene Woodley (from the Divergent series) not only campaigned for Sanders in Rhode Island, but is now leading a cross-country caravan with other Sanders' supporters to the DNC.
Rosario Dawson
Rosario Dawson was arrested outside the White House during a "Democracy Spring" protest and has gone on record with New York Magazine to say she would be fine with getting arrested again, if it meant getting her message out.
"Oh, yeah. Yeah," she said. "I am definitely going to the DNC, and I'll definitely be protesting outside of the DNC."
Danny Glover
The actor joined a rally (along with Sarandon and Woodley) along with 1,000 other demonstrators in Philadelphia on Sunday ahead of the DNC to show his continued support for Vermont Sen. Sanders.
Other actors who have voiced their passionate support for Sanders' (and their frustration with the DNC) include Mark Ruffalo, Seth MacFarlane, and Danny DeVito, to name just a few.
And while the celebrities are turning out in full force for Clinton (Snoop Dogg and Lena Dunham so yeah, there's that), it's sort of refreshing to see these celebrities hold strong to their convictions and "Feel The Bern" to the bitter end, right?