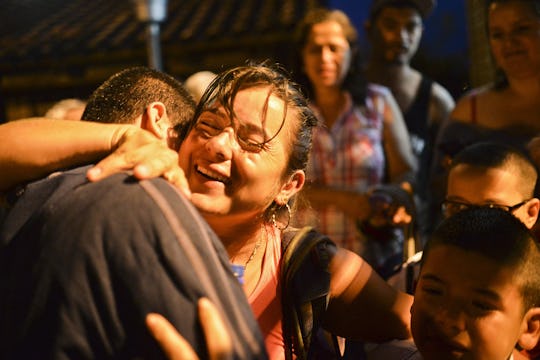 LUIS ROBAYO/AFP/Getty Images
Which Charities Are Helping Ecuador? Relief Workers Are Already Making A Difference
An earthquake devastated Ecuador on April 16, leaving hundreds dead and thousands injured. Many of the people who survived were left homeless, wandering the street in search of food and shelter. The 7.8 magnitude earthquake that rocked the small South American country was the worst in years, killing at least 650 people and injuring thousands more. But even amidst all that tragedy, there's some good news: In the wake of the seismic event, dozens of nonprofits looking to help have been cropping up and speaking out. So which charities are helping out in Ecuador, and how can you lend assistance?
First, you'll want to make sure that your charitable donation is going directly to the people suffering the aftereffects from the earthquake. The United Nations has identified some of the most immediate needs and is taking swift action, delivering food to over 250,000 people across the country. The UN plans to continue delivering food kits to the estimated 500,000 people who were affected by the quake and are still in need of food. In a press release this week, the group stated,
We are trying to assist the most vulnerable areas. We are focusing now mainly in shelters and hospitals and we expect to reach hundreds of thousands of people in the following weeks.
The World Food Programme estimates that the three month long operation will cost around $34 million, much of which will hopefully come from private and public donors.
Ecuador was already suffering substantially as a country before the earthquake hit. President Rafael Correa estimates the cost to rebuild could be within the $3 billion mark, and that reconstruction could take years. So which charities are stepping in to offer both immediate and long term relief?
UNICEF and Red Cross are both working hard in Ecuador, offering shelter and medical aid as well as organizing ongoing rescue efforts to search for remaining survivors. UNICEF representative Grant Leaity told CBC News that the devastation is so severe, "There are one or two locations where the government's contemplating relocating towns ... because of the level of destruction." UNICEF specifically tries to focus on the children affected, and in this case there is no shortage of children who need help. Approximately 150,000 children have had their lives shattered by the earthquake.
Another charitable organization on the ground in Ecuador is Oxfam America, who deployed a seven-person team of water, sanitation, and hygiene experts to help with an urgent need: safe drinking water. In a statement to the press last week, Enrique Garcia, Oxfam's human resource coordinator for Latin america and the Caribbean, said,
Our main purpose now is to get to the people who are most vulnerable to worsening health conditions, because sanitation services have been badly affected and in some cases destroyed. We will also promote preventive measures to help people avoid diarrhea and other vector transmitted diseases.
CARE is another charity with workers currently stationed in Ecuador. At the moment, the organization is offering support to survivors. by seeking donations that will go towards food, shelter, medical assistance, and clean water.
If you are looking to help out the victims in Ecuador, any of these charities would be a good choice. It's always disturbing to see how many charity scams pop up in times of crises, so it's best to err on the side of caution of course. But the aforementioned groups will, without a doubt, be safe.