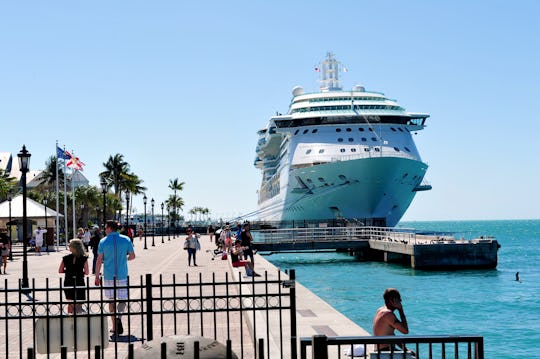 KAREN BLEIER/AFP/Getty Images
Which Companies Have Canceled Cruises Because Of Zika? Travelers, Take Note
Zika virus is taking over everyone's fears and everyone's vacation plans. With recent news of a cruise ship passengers falling ill with Zika and suffering from super-scary brain swelling, travelers in general have been scared out of keeping their original vacation plans — and certain cruise lines have as well. So what companies have canceled cruises because of Zika?
It turns out that there aren't that many, and thankfully, most cruise companies have been providing pregnant travelers with other options, rather than just slapping them with cancellation fees or refusing to grant them the opportunity to swap plans. Multiple cruise lines have even waived cancellation fees altogether in light of the Zika scare and the troves of customers pulling out of their trips out of fear that they might catch the virus.
Norwegian Cruise Line in particular recently announced that it would allow pregnant women traveling to affected areas to switch up their itineraries. The company also offered tips to non-pregnant travelers on how to avoid catching the virus, stating on its website,
For anyone else traveling, the best method to avoid any risk is by taking steps to help protect yourself from mosquito and other insect bites and follow the CDC guidelines which include covering exposed skin by wearing long-sleeved shirts, long pants, and hats and use an appropriate insect repellent containing DEET.
So, while your long awaited relaxing cruise vacation may be going to a Zika affected area, don't worry you can still wear long sleeved shirts and pants while lounging at the pool. How relaxing.
While Royal Caribbean Cruises have not cancelled any of their trips due to Zika, they are aware that travelers may be scared. In the frequently asked questions section on their website, Royal Caribbean has set out a plan for those afraid of catching the virus:
Royal Caribbean will assist any pregnant women who do not feel comfortable sailing to countries affected with the Zika virus by providing alternate itinerary options. This may include providing guests with a future cruise credit valid for two years so that they may re-schedule their voyage for a later date, with no penalty.
However, this policy pertains only to pregnant woman who have booked a cruise with the cruise line and don't feel comfortable with the specific travel destinations. Royal Caribbean is currently "closely monitoring" the situation and advise passengers to visit the CDC's website if they are scared.
Celebrity Cruise Lines and Carnival Cruises (and their brands) have also said that they will allow expectant mothers "covered by CDC advisories" to delay their cruise or travel to a different destination.
The CDC has compiled a list of all the countries and territories with active Zika transmission and it pretty much knocks out all of your favorite vacation spots in South America and Mexico.
But, travelers are still traveling with caution and doubling up on bug spray. Travel with caution before booking your next cruise and stay aware of new Zika updates.