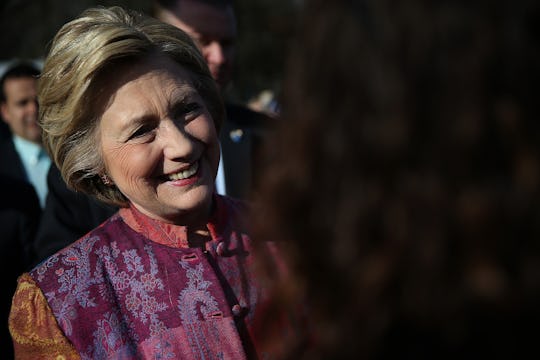 Justin Sullivan/Getty Images News/Getty Images
Which Democrat Won New York? Hillary Clinton May Have Clinched The Nomination
The polls in New York have closed, and the results from the primary that usually doesn't matter have come in. Democratic candidate Hillary Clinton won New York in the race against Vermont Sen. Bernie Sanders. In a normal primary season, the Empire State's election barely counts because it comes so late. However, this is not a normal primary season. With Sanders having swept eight of the past nine contests, Clinton needed a decisive win on Tuesday, and she got it.
Soon after the polls closed at 9 p.m. EST, ABC News projected Clinton the winner with 61 percent of the vote to Sanders' 39 percent, with 39 percent of the vote reporting. The 247 delegates for the state will be awarded proportionally. Tonight's victory for Clinton will make it hard for Sanders to catch up to the former Secretary of State, who's on track to be the first ever female presidential nominee for a major party in the United States.
Going into the night, most polls predicted a Clinton victory. FiveThirtyEight, for example, gave her a 99 percent chance of winning the state. Clinton had a few big factors setting her up for a win. First, she was a two-term senator for New York. In addition, New York's closed primary favored her. Reminder: Closed primaries are for registered Democrats only, and exclude Independents who tend to go overwhelmingly for Sanders.
The closed primary model caused some controversy on Tuesday, with many would-be voters claiming they'd been disenfranchised. New York has the earliest deadline of any state to switch party registration, all the way back in October, which was before Sanders had picked up much momentum. On top of that, many people who went to vote in Tuesday's primary discovered that their party affiliation had changed without their knowledge, and they could not cast their ballots. An Independent organization even filed an emergency lawsuit on Monday requesting that the primary be changed to an open one on the day, but the judge denied the request, delaying the hearing.
Clinton went into the night with a pledged delegate lead of 1,307 to Sanders' 1,094, a daunting lead, but not an insurmountable one. Once considered a total long-shot in New York, Sanders kicked his campaigning into high gear, hoping to narrow the gap and pick up a significant number of delegates to bolster his numbers, even if he couldn't win the whole thing. Looks like that strategy was effective, but not effective enough.
Now that New York is over and done with, the candidates will turn their sights to states like Pennsylvania, Maryland, and Connecticut, which all vote on Tuesday, April 26. Though Clinton won tonight, one thing's certain — this primary isn't going to end anytime soon.