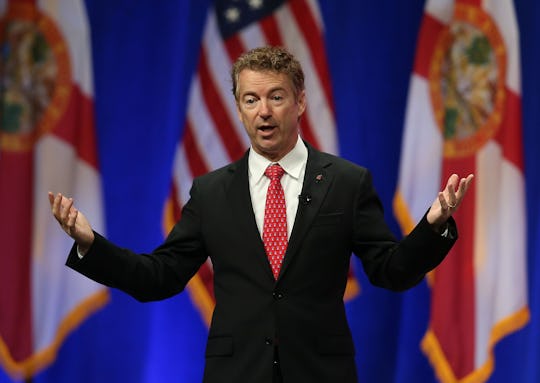 Which GOP Candidates Will Be At The CNN Republican Debate? The Roster Just Got A Bit Bigger
Nine candidates will appear on CNN's primetime Republican debate this coming Tuesday on December 15, which will be hosted by journalist and The Situation Room host Wolf Blitzer. This will be the fifth and final debate of the year (don't worry, there'll be plenty more in 2016!), helping shape decisions leading up to the Iowa caucuses. As we gear up for another decision on the future the GOP sees for America, you might be asking yourself: which familiar faces can we expect to see gracing the podiums? GOP candidates at the final GOP debate will include Donald Trump, Ben Carson, Ted Cruz, Marco Rubio, Jeb Bush, Carly Fiorina, Chris Christie, John Kasich, and Rand Paul, who only juuuust made it in after a FOX poll pegged him at just 5 percent in Iowa.
Fiorina moved up from the "happy hour"/underdog debate after she dominated the Fox News debate, and when she took to primetime, her response to Trump's remarks on her looks rocketed her upwards. (She now famously said, "I think women all over this country heard very clearly what Mr. Trump said."). But the ever-changing roster of candidates taking the podium at events shows just how fluid feelings have been around certain candidates. Trump's fear-mongering has won him some voters and lost him others; Fiorina's comments about Planned Parenthood could do her more harm than good after the attack in Colorado; and Cruz has been scooping up the votes of those who have lost faith in Trump in Iowa.
The early debate (known as the "JV debate") will include: Mike Huckabee, Rick Santorum, Lindsey Graham, and George Pataki at 6:30 p.m. ET, before jumping into the prime time debate at 8:30 p.m. ET. Business mogul Donald Trump will take center stage, natch, as polls continue to position him as the GOP's frontrunner, standing at 27 percent in the latest NBC/The Wall Street Journal national poll. Texas Senator Ted Cruz is polling just behind Trump at 22 percent, though a conflicting The Des Moines Register/Bloomberg poll places Cruz ahead of Trump, at 31 percent to Trump's 21 percent.
The other candidates who'll appear in the final 2015 GOP debate fall just below 15 percent, though Florida Senator Marco Rubio is in third place in national polls. Retired neurosurgeon Ben Carson is at 11 percent, former Florida governor Jeb Bush sits at 7 percent, and businesswoman Carly Fiorina has 5 percent of voters. Sadly, the other GOP candidates aren't even hitting 3 percent.
Kentucky Senator Rand Paul wasn't expected to be a part of this debate, as the media has pegged him as someone receiving "death watch" coverage (meaning he's likely to fall out of his good standing with voters) as his numbers drop. He only pulled in 3 percent in Saturday's Bloomberg/Des Moines poll — which wouldn't have made the 4 percent main stage threshold for CNN's debate — and his campaign preemptively asked CNN to change their standards. However, a FOX poll showed his numbers at 5 percent in Iowa early on Sunday, so Paul will in fact be on stage at Tuesday's debate.
Previously, he hinted at quitting the race if he did not make the primetime debate, which only makes Tuesday's forthcoming debate an incredibly high pressure showing if he attempts to climb back up the ranks.
Facing political journalist Blitzer and the current political and social climate in America — events like national security and terrorism in the wake of the Paris and San Bernardino attacks, gun control in light of the Planned Parenthood shooting, Obama's third address from the Oval Office, and census news that the middle class is still struggling to recover from the recession are all key points that could come up — it's certainly going to be an intense night.
Image: Joe Raedle/Getty Images