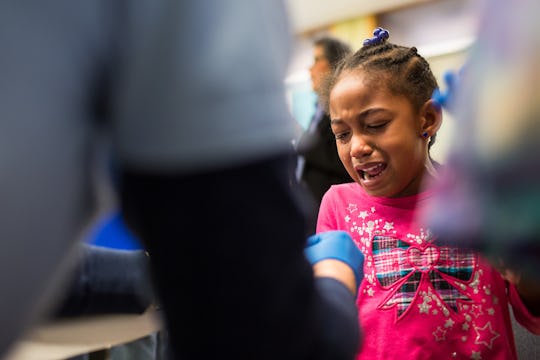 Brett Carlsen/Getty Images News/Getty Images
Which Newark Schools Could Be Affected By Lead Poisoning? The Answer Is Concerning
While people in Flint, Michigan continue to struggle with their water crisis, it seems a similar crisis could be hitting Newark, New Jersey. After recent studies reportedly revealed higher than normal levels of lead and prompted 30 schools to shut off their water, anxious parents have been wondering just which Newark schools could be affected by lead poisoning. The school district is home to some 35,054 students, many of whom could have been exposed to the lead-tainted water.
According to Vice News, school officials in Newark last week shut off water fountains and made bottled water available to students. As many as 17,000 students will now have to undergo testing for lead poisoning, the outlet reported. Newark is the largest school district in New Jersey, and the schools that are the most affected are older schools with lead piping, according to Frank Baraff, the city's communications director. Baraff told The Huffington Post that the city's water supply remains "perfectly safe", but that all students and staff should take necessary precautions.
"At this point," Baraff said, "the main recommendation is... don't drink the water in any of the schools."
So,which schools are causing the highest level of concern for administrators and government officials? Turns out the city will be testing taps and water from all of its public schools — potentially causing even more alarm than expected.
The voluntary blood testing has already begun in some places, with early childhood programs being the first on the list. However, Mayor Ras Baraka assured the public in a press conference that this would not become a Flint, Michigan situation.
"We are confident to say that the water source in Newark is fine. There are a few issues at the schools. And they are elevated," Baraka told reporters in a statement this week. "We are dealing with it."
Despite the assurances of school officials and the mayor, parents are understandably concerned. Those concerns could only have been heightened when the news was announced that 12 percent of water samples taken in the last four years have shown levels of lead higher than the federal limit, according to a report by CBS News.
While 30 schools in the district are being tested now, steps are being taken to test all 67 schools starting over the weekend. Testing of all older buildings will also be conducted by the housing authority.
The voluntary, free tests being offered by the EPA have not been putting all parents at ease. As Hassan Banks, father of four-year-old Aljaquan Briller, told The New York Times in an interview this week, "I'm worried that they feel the need to do it. He's been drinking water in the school all year."
Any lead exposure has the potential to be dangerous for children, especially younger children and infants. Long term exposure can lead to developmental delays, decreased bone and muscle growth, damage to the nervous system and more. If you are concerned that your child might have been drinking contaminated water, don't hesitate to have them tested for lead poisoning. Hopefully, with enough early alarm, Newark might avoid falling down the same path as the people of Flint, Michigan.