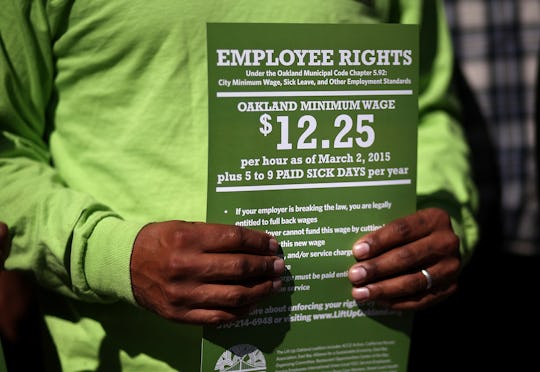 Justin Sullivan/Getty Images News/Getty Images
Minimum Wage Will Go Up In These Places In 2017
As we ring in 2017, New Year's Day should be pretty exciting for a few reasons. First of all, 2016 was a real kick in the pants. Between horrific terrorist attacks, gun violence, political mayhem, and the loss of some of our favorite people, who won't be glad to say good riddance? But it's not just the end of something terrible some of us might be celebrating: Dozens of cities across the country are raising their minimum wage in 2017. So amen to that at least, right?
Lawmakers and voters in 40 cities in 19 states across the country have approved an increase to the minimum wage for 2017. The U.S. Department of Labor listed the minimum wage at $7.25 per hour in 2009, and many of the expected increases will bring that number up considerably. In the state of Arizona, which has approved the biggest hike in its minimum wage, workers will jump from $8.05 per hour to a minimum wage of $10 per hour. As of Jan. 1, the states with the highest minimum wage will be Massachusetts and Washington, with both states raising their previous minimums to $11 per hour. While the federal minimum wage will continue to remain the same, states and local lawmakers can approve higher amounts based on increased cost of living and other criteria.
In the state of California, tech-based cities like San Mateo, Los Altos and Cupertino (which is where Apple headquarters is located), Mountainview (home of Google), and Sunnyvale (Yahoo) will see increases in their minimum wage which was already considerably higher than the federal floor. San Mateo, Los Altos, and Cupertino will go from $10 to $12 per hour, while Mountainview and Sunnyvale will move from $11 to $13 per hour.
While employees who have been struggling to make ends meet will most certainly be celebrating the raise they can expect in the new year, many small business owners continue to lament the increase. As business owners try to come to terms with the hike, many are concerned the wage increase will mean sacrifices in other areas. As coffee shop owner Emiliya Bartashoff told Spectrum News:
I've worked minimum wage jobs. I know that it's wonderful to get rewarded well for what you do, but at the same time, the cons will be ... for us to make up that difference, prices will have to go up, number one. Number two, there will be not just pressure on us as employers, but also on the employees themselves… more expectations.
Not all small business owners are concerned with the hike; Business for a Fair Minimum Wage, which is funded in part by business owners, noted that a higher minimum wage could see lower employee turnover and increased productivity.
There has been a push in recent years to eventually raise the minimum wage to a more livable $15 per hour within the next several years. Several cities have already chosen to adopt this practice; Seattle, San Francisco, Los Angeles and New York City have all taken measures towards implementing a $15 per hour minimum wage. The highest minimum wage in the country is still in the suburb of SeaTac, Washington, the first city to adopt the $15 minimum wage. Residents of SeaTac can now boast a minimum wage of $15.35 per hour.
In other words: Let's all move to SeaTac and celebrate the new year appropriately.