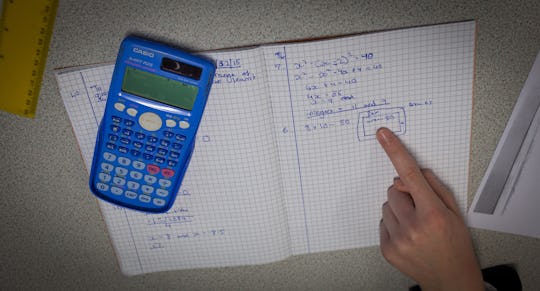 Matt Cardy/Getty Images News/Getty Images
Which Presidential Candidates Support Common Core? Only A Few Have Actively Spoken About It
When it comes to presidential elections, there are lots of sexy issues to discuss. Foreign policy, the student debt crisis, and women's reproductive rights, for example, are all hot button issues. But what about education? We know where Donald Trump and Vermont Sen. Bernie Sanders stand on immigration, for example, but which presidential candidates support Common Core?
Common Core might not be what makes cable news networks tick, but it's the kind of issue that affects American families, educators, and designated homework helpers on a daily basis. It's also a pretty big deal when it comes to how we educate students and what we emphasize, which is what Common Core is all about.
In December, President Obama signed the The Student Success Act, or S. 1177, which replaced No Child Left Behind. One of the biggest changes from former President George W. Bush's infamous education act was that The Student Success transferred the power of setting Common Core standards from the federal government to states. So states can set any Common Core initiatives they see fit and the Department of Education can pretty much stay out of it. Common Core has a muddled reputation depending on who you talk to. At it's simplest, it's just a set of standards that allow states to decide what students need to know by the end of year school year. But that means greater instances of school districts "teaching to the test," lots of homework, and loads of rote-type learning.
Still not sure what to think? Here's what the current field of presidential candidates have to say about Common Core.
Hillary Clinton
In a statement last October, Clinton endorsed the president's education plans with vigor, stating:
While testing can provide communities with full information about how our students are doing and help us determine whether we have achievement gaps, we can and must do better. We should be ruthless in looking at tests and eliminating them if they do not actually help us move our kids forward.
When it comes to the testing aspects of Common Core standards, Clinton has voiced support of Obama's Student Success Act and letting the curriculum and testing schedules be determined by the states, according to the International Business Times. She's also been endorsed by the National Education Association, which has about 3 million members, all educators.
Bernie Sanders
Sanders has been running on a platform geared towards reforming the university and college systems. Although we do know that in 2001 he voted against the H.R.1, or the No Child Left Behind Act, he hasn't really made too many statements about Common Core and K-12 education. If you're feeling the Bern and have some real feelings about Common Core and your third grader's testing schedules, it might be time to start asking more questions.
Donald Trump
The Donald is in favor of gutting the Department of Education overall, in "tremendous" ways, according to the Wall Street Journal. Which means that he thinks Common Core standards are totally out of line. He said in a radio interview in February that federal oversight of education is "ridiculous."
"I think that education should be local, absolutely," Trump said. "I think that for people in Washington to be setting curriculum and to be setting all sorts of standards for people living in Iowa and other places is ridiculous."
Ted Cruz
Cruz wants to "repeal every word of Common Core," because "we should get the federal government out of the business of curriculum, he said last February. But he missed voting on The Student Success Act, which President Obama signed into law in December 2015. In response to missing the vote, Cruz issued the following statement:
In many ways, the conference report was worse than the original Senate bill — removing the few good provisions from the House bill that would have allowed some Title I portability for low-income students as well as a parental opt-out from onerous federal accountability standards. The American people expect the Republican majority to do better.
Marco Rubio
Rubio also missed the vote for the Student Success Act, but he did take jabs at former presidential candidate Jeb Bush for supporting the Common Core. He said:
On the issue of Common Core, while we were off and many conservatives around the country were fighting against the Obama agenda, Jeb was nowhere to be found. In fact, he spent most of his time traveling the country trying to push Common Core onto our local school districts and across the country.
John Kasich
Kasich also has an intense plan to consolidate the Department of Education. Although he hasn't spoken out for or against Common Core, he's into working teachers more than he thinks than they already are. "If I were not president, but if I were King of America, I would abolish all teacher's lounges, where they sit together and worry about 'woe is us,'" Kasich told a crowd in Ohio last August, according to The Hill.
Interestingly, many candidates have only spoken out about their stance on Common Core as a reaction to random questions from reporters and voters, though no one seems to be campaigning on the state of the Department of Education and its role in early education. As the election gets going, though, expect to hear more about education and the candidates' plans states tackle education reform.