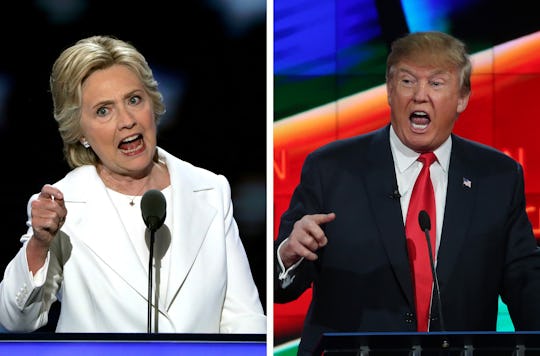 Alex Wong/Getty Images News/Getty Images
Which Presidential Debate Will Cover Paid Leave? It Should Be A Hot Topic
There aren't many issues presidential nominees Hillary Clinton and Donald Trump seem to agree on and yes, that is basically the understatement of the century. The upcoming debates between the Democratic and Republican presidential candidates should be interesting, to say the least, as the opponents face off on issues like foreign policy, education, gun control, and more. But there is one issue that new parents and those considering becoming parents in particular might want to watch for; which debate will cover paid leave?
The first presidential debate, which will air Monday night on NBC starting at 9 pm EAST and run for 90 consecutive minutes without commercial interruption at Hofstra University in Hempstead, New York, will be moderated by NBC Nightly News anchor Lester Holt. As debate moderator, Holt was able to select the topics for this debate and chose these three topics;
America's Direction
Achieving Prosperity
Securing America
The debate will be broken down into six 15-minute segments, and these topics will serve as "jumping off points" for the moderator to broach questions to the candidates. While the topic selection is broad and leaves lots of room for moderator Holt to zero in on specific policies, what is the likelihood of paid family leave being broached in the first debate?
Interestingly, paid family leave is actually one of the only issues the candidates both support. Their proposed policies are different, of course, but it's good news for parents who desperately need paid family leave to raise their children; in theory, whichever candidate is voted in, their policy should allow parents some form of paid family leave. That is, of course, if the new president follows through with their proposals.
Donald Trump announced last week that he supports a plan that would allow new mothers six weeks of paid family leave, regardless of whether or not their employers were willing to pay them (they would be guaranteed family leave through unemployment insurance). Hillary Clinton's proposal supports a full 12 weeks of paid family leave through the Family and Medical Leave Act (FMLA).
The two candidates proposed plans for family leave differ beyond simply the length of time allotted; Clinton's policy is meant to encapsulate all forms of parents of both genders regardless of how they came to be parents; same-sex couples, adoptive parents, and surrogates included. Donald Trump's plan covers new mothers after they have given birth. Period.
Moderator Lester Holt's choice of debate topics has certainly left him enough room to ask the candidates for more details about their paid family leave policies. And the good news is, if Holt doesn't cover this important topic, there will be two more debates in October (one on Sunday, Oct. 9, with the last debate happening on Wednesday, Oct. 19). The second of those debates will be held as a town meeting, with half the questions coming from citizen participants. Considering 76 percent of Americans surveyed support paid family leave... it's a near certainty this topic will get solid coverage along the way.