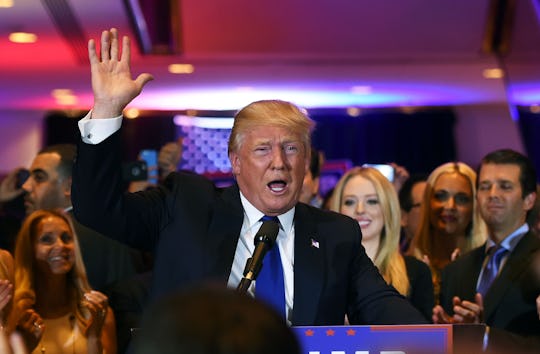 JEWEL SAMAD/AFP/Getty Images
Which Republican Won New York? Donald Trump Took Home An Unsurprising Victory
The New York GOP presidential primary election results are in, and many outlets are calling it: Republican candidate Donald Trump has won New York, and apparently, wiped the floor with the other Republican presidential candidates, with ongoing reporting showing Trump winning with 61.4 percent of the vote, according to the Associated Press. The polls for the highly anticipated voting day in the Empire State were slated to close at 9 p.m ET. Only registered Republicans and Democrats could vote today, in the state's closed primary, and for Republicans, Trump came out the winner – big time.
Early in the evening, just moments after the polls closed, outlets like CBS and USA Today predicting a surefire victory for the mogul. Within minutes, the Associated Press had predicted the win as well.
Coming into the New York primary, with 95 delegates available, polls in various media outlets showed Trump having a double-digit lead in New York, including The Huffington Post's poll, CNN's poll predictions, and FiveThirtyEight's calculation that Trump, the New York native, had a greater than 99 percent chance of winning the New York Primary.
The next big date for the Republican presidential hopefuls is April 26, with voting in the following states: Connecticut, with 28 delegates up for grabs, Delaware, with 16 delegates, Maryland, with 38 delegates, Pennsylvania, with 71 delegates, and Rhode Island with a total of 19 delegates. But for now, it seems the heavyweight New York has spoken.
The business mogul's GOP opponents, Ohio Gov. John Kasich, and Texas Sen. Ted Cruz, are showing voting results of 24.1 percent and 14.4 percent respectively, according to the Associated Press.
"We don't have much of a race anymore, based on what I'm seeing on television," Trump said in his victory speech following the New York primary results. "Senator Cruz is just about mathematically eliminated."
What does Trump's win mean for delegates? New York is not a "winner-take-all" state, but if a Republican candidate receives more than 50 percent of the vote, they automatically receive 14 "at-large" delegates. And since the current primary results show Trump at at least 60 percent, it's likely those 14 delegates are his.