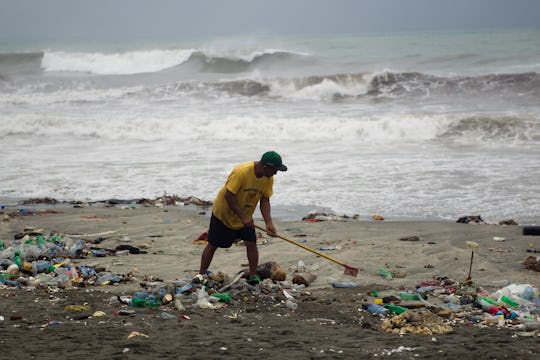 ERIKA SANTELICES/AFP/Getty Images
Which South Carolina Counties Are Being Evacuated? Hurricane Matthew Could Wreak Havoc
It's reportedly the most dangerous storm in nearly a decade. Heavy winds and torrential rains are already wreaking havoc throughout the Caribbean, but it looks as though Hurricane Matthew might not stop there. South Carolina Gov. Nikki Haley announced at a press conference on Tuesday that she plans to evacuate cities dotting the coast of South Carolina to protect over 1 million citizens from possible danger. Unless Hurricane Matthew changes course, it is set to descend on South Carolina and Florida within days, and Gov. Haley announced she would be implementing evacuation procedures as of Wednesday, and hopefully the evacuation of various coastal communities will begin by 3 p.m. ET. Haley told reporters at Tuesday's press conference:
This is not something that we want to play with. The worst-case scenario is that you get stuck on the coast and have no place to go.
Haley has declared a state of emergency, which means that the state will have access to 1,800 National Guard members to help with the necessary evacuation of all coastal communities in South Carolina. She pleaded with citizens to get as far away from the path of Hurricane Matthew as possible, preferably at least 100 miles from the coast. Highways will be diverted so that all lanes of traffic are heading away from the coast.
The state will also close 26 of its government offices and schools as it braces for Hurricane Matthew to arrive by Friday night. The storm, which has already killed seven people in the Caribbean, could be a Category Two or Three by the time it reaches South Carolina's coast, with winds expected to hit around 140 miles per hour. Hurricane Matthew is not showing any signs of weakening before it hits the East Coast, according to National Weather Service meteorologist Michael Stroz:
Matthew seems to be staying consistently strong. It could lose some strength as it tracks across mountains in Cuba over the next day or so, but could possibly start strengthening after (it hits) the Bahamas.
Hurricane Matthew is expected to hit the Bahamas on Wednesday.
The American Red Cross is reminding residents who are being evacuated to pack an emergency kit with items like:
a gallon of water per person for each day
nonperishable food
a flashlight
battery-powered radio
first-aid kit, medications
supplies for an infant
a multipurpose tool
personal hygiene items
copies of important papers
cellphone chargers
extra cash
blankets
maps of the area and emergency contact information
Though many residents have been feeling understandably panicked and have been flooding grocery stores for bottled water and other essentials, Gov. Haley asked residents to try to stay calm:
You are going to see National Guardsmen and law enforcement at all points as you make your evacuation through that process. It's not going to be a fast evacuation. What we ask is that you be patient, and understand it could take several hours. If you can leave early, do that. The goal is always not to all leave at once.