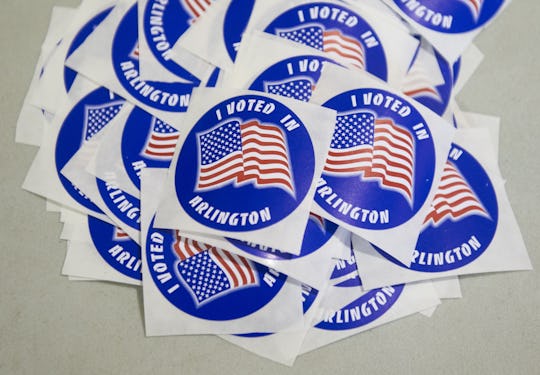 SAUL LOEB/AFP/Getty Images
Which State Matters The Most On Super Tuesday? There Are A Few Important Ones Up For Grabs
Super Tuesday has arrived, the day when the most states at any time in the election season vote in their local presidential primaries. We've all been told that every vote counts, but if we're bring honest, here, some votes certainly count more than others, and some states are more important to the candidates than others. So which state matters the most on Super Tuesday? Unsurprisingly, it's the second-largest and second-most populous state in the nation, Texas.
Because Texas has so many voters, they have the most delegates to hand out on Super Tuesday– 155 for Republicans and 251 for Democrats. But that's not the only reason the Texas race is important — it's also the home state of Texas Sen. Ted Cruz.
Most polls show Cruz in the lead in Texas, which should come as no surprise, since he's already been elected there before. But according to The Dallas Morning News, a close race between Cruz and Trump is expected. If Cruz can't win in his own state, that doesn't bode well for his electability on a national scale. A win for Trump in the Lone Star State could make his nomination much more likely, although an MSNBC poll shows that 33 percent of Cruz supporters would vote for Rubio as their second choice, compared with 26 percent choosing Trump.
Also of note is the Georgia primary. The state offers the second-largest number of Super Tuesday delegates — 76 for Republicans and 102 for Democrats — and it's also a close Republican race. According to NPR, Trump is leading there, but only by 7 points. Rubio is close behind, and is often the pick by those making a late decision.
As for the Democratic primaries, Massachusetts is the state to watch. Former Secretary of State Hillary Clinton is leading the polls by a wide margin in most Super Tuesday states, doubling votes for Vermont Sen. Bernie Sanders in Tennessee and Georgia. But in Massachusetts, which borders Vermont, the race between the two is close. While Sanders trounced Clinton in the New Hampshire primary, a recent Massachusetts poll by Boston CBS affiliate WBZ showed that the two were neck and neck, with voters favoring Clinton over Sanders by only 1 percent. The full results were Clinton with 44 percent, Sanders with 43 percent, and 9 percent still undecided.
But Massachusetts could be important to the GOP, too. While polls show Trump leading by a wide margin, U.S. News & World Report has pointed out that at least 50 percent of Massachusetts Republicans are Catholic (and many still have a framed portrait of John F. Kennedy hanging in their homes somewhere). This could spell bad news for Trump, who's lately taken to feuding with Pope Francis.
At any rate, this race will lead to two historic candidates facing off: The Democratic nominee will either be a woman or a secular Jewish man, and the Republican nominee will likely be either a Hispanic or a... well, insert your own Trump synonym here.