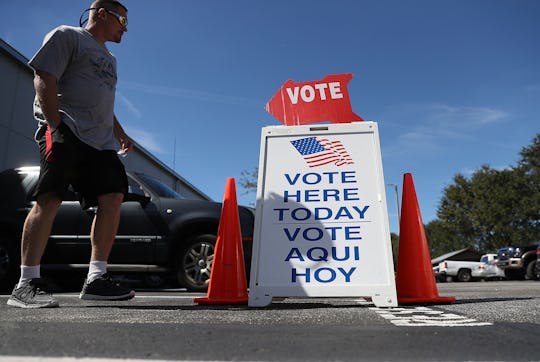 Joe Raedle/Getty Images News/Getty Images
Which States' Election Results Will Come In Last? Tuesday Will Be A Long Night
If you were hoping that Election Day would just end by the time you went to bed on Tuesday night, I have bad news for you. It's going to be a long night. So which states' election results come in last so we can give a collective Obama-style "c'man man!" to them? Because seriously, those states are holding everything up.
Of course, I jest. But wouldn't it be nice if the election could be called around prime-time so no one had to miss The Voice? It's un-American, really. But this is our fate, so let's just accept it.
Polls close at different times state by state to accommodate their residents, so it's good that some close later than other ones. Also, it keeps things interesting, as if this election season wasn't stressful enough. Americans are good at adapting, so if we have to wait until after midnight for results, so be it.
The earliest polls close around 6 p.m. or 7 p.m. ET. The good news is that some of the states that close early, like Florida and Pennsylvania, come with a lot of Electoral College votes, which are necessary for a candidate to hit the total 270 they need to win. Some of the later states also come with big Electoral College hauls or just a handful. Since this election is super close at the moment, those states matter. Sorry everyone, it probably won't be possible to call the election until way after everyone's bed time.
Here are the states that you can blame for messing with your sleep schedule this week.
At The 10 P.M. ET Hour...
Nevada comes with six electoral votes and although it's usually a red state, there was a push for Hispanics to come out during early voting that could make it a win for Democrats. Utah and Iowa also close at this and have six electoral votes each. Montana and Arizona, with three and 11 electoral votes respectively, also close at this hour. Utah could be interesting to watch because of third party candidate Evan McMullin's presence in the state. It's possible he could cancel out the other candidates electoral votes. This is a nail-biting hour for both candidates. This is also the time to make sure you order pizza before your spot closes for the night.
At The 11 P.M. ET Hour...
Usually, once California (55 electoral votes), Oregon (7 votes), Washington (12 votes), Idaho (4 votes), and Hawaii (4 votes) are in, it's customary to call the election. But depending on how everything went earlier in the night, these small-seeming prizes (like four or seven electoral votes) might matter on Tuesday. You might want to make sure you have a stash of your kids' leftover Halloween candy somewhere to make it.
And Then Alaska...
Alaska is the last state to close its polls at 1 a.m. ET, which means if the election is as close as some experts are projecting, the state's three (seriously, three?!) electoral votes could make or break the entire election. Let's all just hope it does not come to this. But check the liquor cabinet just to be sure, obviously.
Usually, candidates concede sometime after California announces their winner, since it's the last huge win of electoral votes. But it may not be until the next morning that we have a concession from one of the candidates this time around. Republican nominee Donald Trump has been stumping on his theory that the election is "rigged" and said that he wasn't sure he would concede if Hillary Clinton was declared the winner. Really, let's all hope everything finishes up as clear cut as possible. And then try to petition Alaska to close its polls a little earlier.