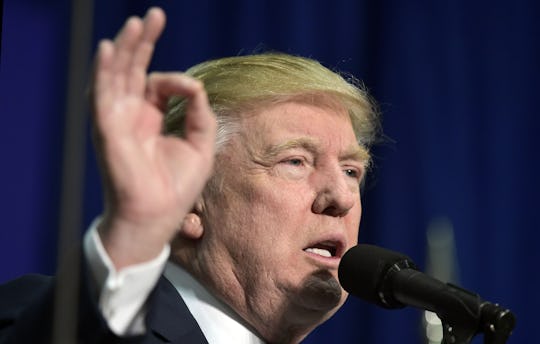 MANDEL NGAN/AFP/Getty Images
Would Donald Trump Contest The Election If He Lost? Trump Believes It's His Right To Do So
Bothering Democrats and Republicans alike, GOP presidential nominee Donald Trump has all but insisted that he'll only accept a "win" as the real outcome of this year's election. Since the final presidential debate just this Wednesday, his subtle statements have turned even more exact. Voters are now wondering: Would Donald Trump contest the election if he lost? "I would also reserve my right to contest or file a legal challenge in the case of a questionable result," Trump told supporters in Delaware, Ohio Thursday, according to the Wall Street Journal. "I will follow and abide by all the rules and traditions of all of the many candidates who came before me, always."
"I will totally accept the results of this great and historic presidential election — if I win," Trump also informed his supporters. Comments like these, especially Trump's "rigged" election assertions, have caused rifts between him and the party he's meant to represent. Even his running mate appeared to be on a different page; earlier this week Mike Pence assured that Trump would "absolutely accept the results of the election," according to NBC News. Pence has since cleared up that this might not be the situation "in the case of questionable results."
Trump's attitude hasn't sat well with Republican officials who've been bothered by Trump's "questioning the integrity of their work," as The Wall Street Journal's put it. Tennessee Sen. Bob Corker tweeted that it "is imperative that Donald Trump clearly state that he will accept the results of the election when complete."
Understandably, the possibility of a contested election is being compared to the the Bush vs. Gore race in 2000. This situation, however, had a much higher apparent respect for democracy. David Boies, attorney for Al Gore at the time, emphasized to The Los Angeles Times that, between Bush and Gore: "There was never a suggestion by either side that they would impugn the legitimacy of the result, that they would claim it was a rigged decision, that they would claim it was flawed." Gore's presidential concession respected the Supreme Court's decision and did not fault the system or seek outward theories or justifications.
Claiming that dead people are voting, his sexual assault accusers are conspiring with the Clintons (he's denied knowing any of the accusers), and that the media has plotted against him, Trump has been grasping for justifications as to why Clinton continues to lead in the polls, looking to place outward blame wherever possible and unwilling to consider that fact that perhaps his policies and persona are dissuading voters from supporting him. "I'll keep you in suspense," Trump announced at Wednesday's debate when asked if he'd concede. In an election rife with scandals and plot-twists, his intentional ambiguity is only fitting.