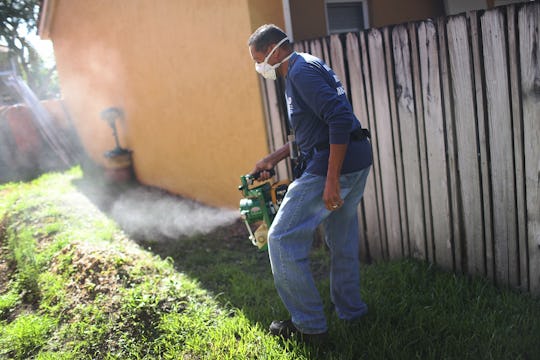 Joe Raedle/Getty Images News/Getty Images
Which States Have Approved Zika Funding? The Focus Is On Those Areas Most At Risk
As Zika continues to spread, and the numbers of pregnant women in the United States infected with the Zika virus continue to mount, health officials are left scrambling for the funds necessary to prevent the outbreak's spread. Which states have approved Zika funding? Funds are being made available to those states at the highest risk.
At the federal level, there's been an ongoing fight for Zika funding since February, when the Obama administration asked Congress to approve $1.9 billion in emergency funding to fight the spread of Zika and put money into research to develop treatments and eventually a vaccine. The request for funding stalled in Congress and still has yet to have actually gotten a vote, despite the fact that, according to the Centers for Disease Control, there have been 618 cases of Zika reported in the continental United States, and 1,110 cases reported in U.S. Territories.
The real concern is protecting pregnant women from Zika exposure. Contracting Zika while pregnant has been linked with catastrophic birth defects, including microcephaly, a condition where the baby is born with severe brain damage and small head. Without the necessary precautions, there will surely be more babies born with Zika-related birth defects, leaving many women panicked about travel and family planning.
Without a comprehensive funding plan, the CDC and Health and Human Services are accepting applications from states for a slice of the $85 million in funds that were first earmarked to combat the spread of Ebola. Now those funds are being re-directed to states to stop the spread through mosquito control and prevention. In it's latest round of funding, the CDC said $25 million will go to 53 states, cities, and territories at risk for Zika and will be dispersed accordingly throughout the summer to build labs, beef up epidemiological investigation, increase mosquito control, protect blood supplies, and collect data through the U.S. Zika pregnancy registry.
The areas at the most risk for Zika, according to Reuters, are poor communities along the Gulf of Mexico, with some areas having to "mobilize their first mosquito control efforts in years," the report said.
The best prepared area is Harris County, Texas, which includes the Gulf city of Houston, which already budgets $4.5 million annually to controlling "disease carriers" including mosquitoes, ticks, and rodents, according to Reuters.
Details about how this latest $25 million in funding will be spent have not been released by the CDC and Health and Human Services, and emails to the agencies for details about how the money will be distributed weren't immediately returned.